SOME RANDOM THOUGHTS

Time
Time is precious: it is a jewel box full of great treasure. If we make good use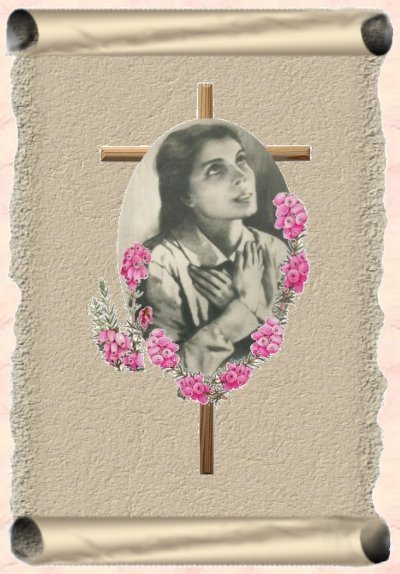 of it how much glory we give to Jesus! How much consolation we can give him and how many riches with which to enrich and embellish our souls!
Holiness
Your Resurrection, Oh my Jesus, restores my soul to that love and grace that my heart so much desires. I want to be holy!
I will suffer because it rids the world of vanity, thirst for power, immodesty, excesses in the use of money.
I will suffer for the growth of the missions until the word of Jesus, that only truth, is spread everywhere.
I will suffer for a growth in Catholic Action and Eucharistic life throughout the world.
My desire is that all people be holy.
Charity
I would like to go throughout the world to dry up tears …
I would like to spread Christ's charity through all humanity, all souls and bodies.
Oh holy charity of my Lord, how beautiful you are! S 12.11.'48
I want to do good, much good for all, I want to console and comfort the poor: I see Jesus in them. In imitation of him I want to clothe them, feed them, I want to do good to soul and body; I cannot endure hearing of a neighbour in need: I want to help that person or suffer when I cannot do anything.
My poor heart, although bad, suffers, feels like it lacks something when it cannot be changed into bread, clothes, comfort, joy and balm for those who suffer.
Jesus, I want to do good to all, I want to console everyone for love of you.
The soul as victim
Pain is the child of love.
Who loves Jesus suffers for him, does not deny him any sacrifice.
Oh, how beautiful and enchanting is Jesus' spouse! A spouse constantly immolated and sacrificed. How beautiful and enchanting for the divine eyes is her soul.
I ask often:" Oh my Jesus, what do you want me to do?"
And each time I do not detest hearing the answer: "Suffer, love, make reparation"
I want to live in pain, until your love lives and reigns in all souls. L.28.3.'40
I want to cry out loud to the world: it is with complete joy that I embrace this painful martyrdom, because I feel that there is nothing better than pain for uniting ourselves to Jesus. L.10.4.'40
The Crucifix, my crucifix is always in my arms! I cannot separate myself from Him!
Jesus and his heavenly Mother give me strength in my suffering.
Oh Jesus, in virtue of your holy passion, I ask you to convert me always!
Sacramental communion
Endless thanks for having sent me a priest to give me Jesus.
Who gives me Jesus gives me the riches of heaven and earth.
It is the sacred food without which I cannot live.
Let me lose everything but never communion; lose everything, but possess you, Oh Jesus!
He who is All became nothing, Greatness came down into poverty. Love came down into coldness, lukewarmness, into misery, indignity.
How much love Oh Jesus!
You came dwon from the greatest heights to the lowest of the low. Oh Jesus, give me fire, give me love: love that burns, annihilates.
I want to live and die of love.
Oh Jesus, may your divine love be my life. May it and only it be my death.
May I lose myself in the immensity of your Love.
I have felt myself so strongly yearning to be dissolved in divine fire, and to immerse hearts and souls in that love. S.27.9.1944
Transforming union
I was Jesus and Jesus was me.
We two were the same offering to heaven. S.16.8.1945
Humility
Let us go, let us go to learn from the child Jesus how the will of the Heavenly Father is carried out.
Let us go to learn how to practise charity, how to love humiliation and lack of appreciation, silence and poverty.
The King of heaven, the Lord of all the earth became the smallest amongst human beings.
I want to be like a ball in your blessed hands, I want to be like grain in the mill, I want to be like the pressed grape; to suffer and love, Heavenly Mother; this is my hope: to be a nothing, a pure nothing.
To conquer our pride there is nothing better than to receive great humiliations from creatures. How much good they do to our souls. How much they help us to come closer to God!
Prayer
At dawn on Easter morning I went in spirit to Jesus' tomb to remind him of your intentions. I will not fail to ask him that his Resurrection may be yours too. If you wish to meet me, get up quickly, and in spirit make the same voyage to Jesus' tomb, and there, in one heart and one soul, we will unite our prayers.
I want to suffer and to pray much for the Holy Father.
He is the spiritual Father of the whole world: he is the light and guide of all souls.
He needs our help.
The smile
I am your victim…do not punish the world…I want to be the lightning rod.
Oh Lord, put a deceptive smile on my lips that can hide my soul's martyrdom.
For young people
I feel united greatly with Salesians and Cooperators around the world. How many times I look at my certificate and offer my sufferings united to all of you for the salvation of the young! I love the Congregation, I love it so much and I will never forget it, neither on earth or in heaven.