October 2006

"ALEXANDRINA, I WANT TO LEARN FROM YOU" (5)
Confidence, surrender.
God is love, and for us God is a father.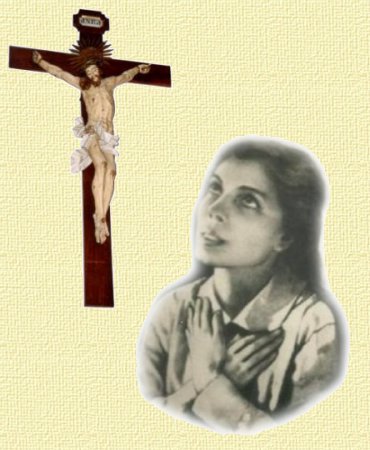 Therefore, a father who loves.
Not only this, but he is also all powerful
so he is able to make everything work for our good.
The true Christian, as a son, must do everything he can to repay such love.
He must try to manage, in all situations, to surrender himself to the love of the Father and to be "quiet and calm as a child weaned in the arms of its mother" (Ps 130).
Without a doubt, it is very difficult in most cases to reach this state of spirit! It is necessary to intensify our love and our prayer asking for aid toward this objective. And the aid will not be wanting, when the opportune time comes! God's time is not our time and certain long delays are according to the Supreme Will for our sanctification, and other reasons that we do not know.
In this matter, too, Alexandrina is our great master.
I trust only in my Jesus: seeing me like this, so weak and insignificant, he gives me more help and he inclines himself to me.
Jesus, I want to be always small to be always in your divine arms: that way I have no fear of falling.
With you I can take the cross. C (07-09-39)
You gave me the grace of knowing the abyss of my misery, but at the same time I see that bigger, infinitely bigger, is the abyss of your love, your mercy and compassion.
I trust in You blindly; in You is my hope. S (27-03-42)
I delivered myself, I abandoned myself (...) Jesus and the Heavenly Mother take care of me, even when I do not feel it.
I believe in You, I believe in You, my God! I believe in You. S (06-10-50)
In this persistent affirmation, repeated, we feel a conflict doubt.
It is a fight that we must face with the aid of prayer.
But I trust, my Jesus, I trust, even against all odds, against the death of all my hopes.
I trust on you, Lord, and I will not be confounded! S (29-08-47)
I establish myself in Jesus, I hug the Crucifix and I try to live the life of each moment without thinking about what will come, so that I will have no earthly preoccupation: to suffer, to want to trust and to love, to see in everything the will of the Lord. S (17-09-48)
I delivered to Jesus and to my heavenly Mother my incompressible life: They, in their divine wisdom that understands all things, accept me. To me it only belongs to suffer and to follow them blindly. May the will of the Lord be done in all things! S (28-05-48)
This is the true attitude of the victim soul. We are not all called to the mystic heights; but all Christians must look in that direction.
It is a continuous fight against doubts!
Alexandrina, as late as 1953, was still asking for aid, but at the same time she always reaffirmed her confidence:
Help me, my Lord, help me!
I put my entire trust in you.
Even when I see everything banking up against me may my abandonment be total, even when I see the earth being destroyed, and even the sky, I will no cease to trust in you! S (27-11-53)
Will I be capable of continuing my life? … I am able to do all things in Him who comforts me, I can do all things with the help of Jesus and my dear Mother. S (01-04-55)
Let us remember the affirmation of S. Paul:
"I can do all things in Him who strengthens me" (Fil 4,13)