ALEXANDRINA AND YOUTH
November 2006

"ALEXANDRINA, I WANT TO LEARN FROM YOU" (6)
Inhabitation
With baptism the Christian receives the embryo of the divine life; but in order for this to be developed and become effective, his active contribution is needed.
Jesus says :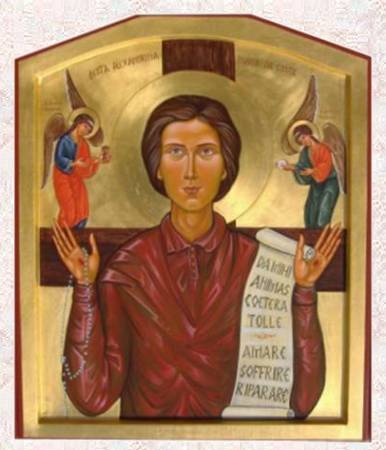 "If somebody loves me, he will keep my word, and my Father will love him, and we will come to him, and make out home in him." (Jn, 14,23)
It is this 'living within' of the most Holy Trinity in the heart of the Christian, made a "son of God", that we called "indwelling".
However, in the daily life of most Christians, awareness of this extraordinary truth is clouded. Alexandrina is among those elect souls who are so spiritually elevated that they live in constant awareness of divine intimacy. Jesus says to her:
Your heart is the throne of love, of purity, of the delights of the divine Trinity: The Trinity lives in you, ever enriching you with grace and divine wealth.
Go with the strength of your Jesus and tell everything, so that nothing remains hidden. S (24-05-46)
A few months later, Alexandrina dictates:
I try to live always, as far as possible, inside my soul. And how do I live? On my knees (spiritually), with hands joined, head inclined, adoring, loving the most Holy Trinity.
I adore, I love with my desires alone: for in my wretchedness I can do nothing more. If I could manage to convince all souls to live the inner life with this divine Treasure, how they would adore and love! S (05-10-46)
Awareness of indwelling continues also during one's daily occupations:
I want to live inside this body that does not exist (she is already physically destroyed, after five year of total fast, not to mention all her other physical and moral sufferings; I so want to live there, deep inside, the interior life, the intimate life with God Father, Son, Holy Spirit; that I do not want to leave. I want to look after the exterior life without ever leaving the interior.
My Jesus, my Jesus, do not let the world separate me from You! S (17-01-47)
Almost two years later Jesus says to her:
The Father speaks in you, with His power and wisdom, the Son with His redemption and love, the Holy Spirit with His light. Everything is for souls: from you everything shines out and is poured into them (....) S (05-11-48)
And again:
Listen to me: you have heaven in your heart, the Divine Trinity that did not arrive suddenly but has always been dwelling in you. It is delighted when you speak of It.
What glory, what glory you give It! How many souls live the interior life, the life of the most Holy Trinity through you!" S (22-07-55)
Through her, in her school, then, also let us pledge ourselves never to ignore the divine Treasure which we have in us!
And thus, little by little, we will manage to realize the desire that Jesus makes known to Alexandrina, but which we can take as addressed to ourselves:
I want everything that it is mine to shine through you:
I want your looks to have my purity;
I want your lips to have the sweetness of my smile;
I want your heart to have the tenderness, the charity and the love which mine has;
in short: I want you to reflect me in everything. S (13-06-47)