From Saint Marguerite Mary Alacoque to Blessed Alexandrina
Fr. Mariano Pinho, who started to direct Bld. Alexandrina in August 1933, arrived at Póvoa de Varzim in 1929 – coming from Paray-le-Monial. In that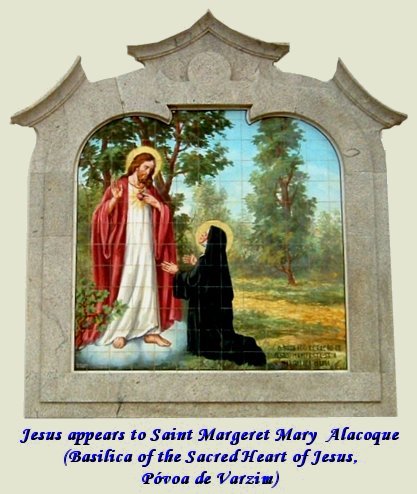 year of 1929, the image of Saint Margaret Mary had been acquired for what had already been built of the Sacred Heart of Jesus Basilica.
Since its initiation this basilica had had the assistance of the Jesuits. Having been exiled by the Republic they were now returning to that town. When Fr. Mariano Pinho arrived to take account of the direction of the Messenger of the Heart of Jesus, his colleagues had already been there for four years.
The message of Saint Margaret Mary had acquired current notice with the publication of the encyclical letter Miserentissimus Redemptor ("The Most Merciful Redeemer"). This encyclical letter, that explains the theological basis and the meaning of reparatory expiation, was published in 1928. Fr. Mariano Pinho was to quote this paragraph of it in his biography of Alexandrina, On the Calvary of Balasar:
While the wickedness of men has been greatly increased, at the same time, a marvellous increase has been made in the number of the faithful of both sexes, who, by the inspiration of the Holy Ghost, eagerly endeavour to make satisfaction for the many injuries offered to the Divine Heat; nay more, they do not hesitate to offer themselves to Christ as victims.
In 1929, and in following years, the Messenger repeatedly wrote about Saint Margaret Mary and her director, at that time "Venerable" Colombière. Also, there was an artistic arrangement that repeatedly appeared opening those articles, where this axiom could be read: "To suffer, to be silent, to repair". Indeed it is the same one that the Beata of Balasar would adopt, in 1933: "To suffer, to love and to repair". Since then the Beata is, clearly, in the same league as Saint Margaret Mary.
But it was on 30 of July 1935 that the name of Saint Margaret Mary Alacoque explicitly appeared in a letter to Fr. Pinho. Then Jesus spoke thus:
Say to your spiritual Father that, in proof of the love that you dedicate to my Most Holy Mother, I want an act of consecration of the whole world to be made every year on a feast day chosen by you - the Assumption, or the Purification, or the Annunciation - asking the Virgin without the stain of that sin which shames and confuses impure ones, that they may draw away from sin and not offend Me any more. Just as I asked Saint Marguerite Mary to have the world consecrated to my Divine Heart, so I ask you to have it consecrated to Her with a solemn feast.
Saint Margaret Mary will appear again in a colloquy, but much later, on 1 of October 1954; the text emphasises the parallels between Bd. Alexandrina and the French saint:
... Jesus came and, on an impulse, his love fortified me more and thus spoke to me: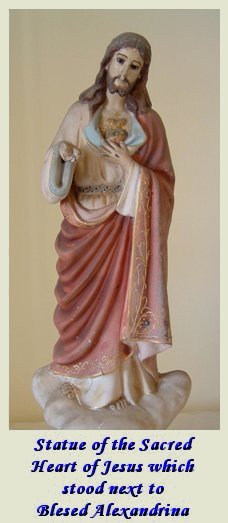 "Come, my daughter: I am with you. Heaven, with its whole power, is with you".
At this moment, through the wound of his Divine Heart came out a flash so great and so luminous that its rays radiated everything. Shortly afterwards, from his divine Wounds emanated rays that rent my feet and my hands! From his holy Head to mine also passed a "sun" that rent my whole brain.
Speaking about the first flash and the rays that emanated from his Divine Heart, Jesus said with all clarity:
"My daughter, just as with Saint Margaret Mary
, I want you inflame in the world this love that has been extinguished in the hearts of the men.
Inflame it, inflame it!
I want to give, I want to give my Love to men!
I want to be loved by them. They do not accept Me and they do not love Me.
Through you I desire that this love be set alight in all the humanity, just as by you the world was consecrated to my Blessed Mother.
Beloved spouse, act so that that the entire world be inflamed with the love of our Hearts!"
"How, Jesus? How can I do this? If it is not accepted through You, how will the men receive it through me?"
"With your pain, your pain, my daughter! Only by this means are the very fibre of soul grasped, and afterwards their hearts will be left burning with my love.
Allow these divine rays of my Wounds to penetrate into your hidden wounds, into your mystical wounds".
In the last page of his book Alexandrina, the Agony and Glory, Francis Johnston tells of a meeting in Balasar with Fr. Umberto. During the conversation, he asked Alexandrina's second director if she might not one day be considered a second Saint Margaret Mary Alacoque. Fr. Umberto answered with the most determined yes: "he gave a most emphatic yes".