« ALEXANDRINA, I WANT TO LEARN FROM YOU ! »
(12)
April 2007

ALEXANDRINA AND THE EUCHARIST
Let's hear Jesus!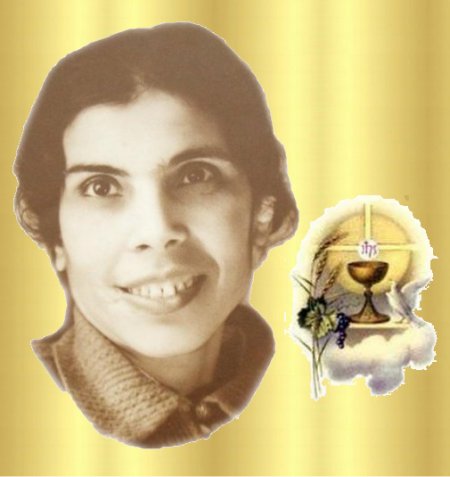 Jesus says:
One who is far from the tabernacle is far from heaven, far from Jesus.
I want souls, many truly eucharistic souls.
The tabernacle, the tabernacle, oh, if the tabernacle was fully understood!
The tabernacle is life, the tabernacle is love, the tabernacle is joy and the peace.
The tabernacle is a place of pain, it is a place of confrontation, a place of suffering:
The tabernacle is despised. Jesus of the tabernacle is not understood! S (11-09-53)
I heard Him saying:
My daughter, my daughter, eucharistic light and star (...)
I chose you as a victim so that you might continued my work of redemption.
I put love in your heart, unquestioning love for the Eucharistic.
It is through you, it is with the light of this fire that you light many souls. Guided by this star which has been chosen by Me, and transported by means of your example, the light will be transformed into burning souls, truly eucharistic souls. Poor world, without the Eucharistic! Poor world, without my victims, without the hosts continuously immolated with Me!
I want, my daughter, say that I want a new world, a world of purity, an entirely eucharistic world (05-01-52)
Spiritual Communion
It did not let a day pass without praying to the Blessed Sacrament, meditating, whether in the church or at home, even on the road, ever making a spiritual Communion like this:
"O my Jesus, come to my poor heart! (…) I join myself to You! (…) I do not want any good but You! (…)
I thank You, Eternal Father, for having left Jesus to me in the Blessed Sacrament. I thank You, my Jesus, and finally ask for Your holy blessing!
May the Blessed and most Divine Sacrament of the Eucharist be praised at each moment" A (p.8)
I am always keeping Him company and often receiving Him spiritually; as the hours pass, how many times do I receive Him!
My insatiable love is the Eucharist. C (01.10.40)
O my beloved Jesus, I join myself in spirit, at this moment and from this moment forever, to all the holy Hosts of the earth, in each place where you live sacramentally. There I want to pass all moments of my life, constantly, day and night, glad or sad, alone or followed, always consoling You, loving You, praising You and glorifying You. A (p.30)
Jesus says to her:
Tell souls that love Me to live close to Me during their work.
In their homes, either by night or by day, tell them to kneel many times in spirit and, with head inclined to say:
"O my Jesus,
I adore You in all the places where You live in the Blessed Sacrament of the Altar.
I keep You company in place of those who despise You;
I love You in place of those who do not love You.
I make reparation for those who offend You. Come into my heart".
These will be moments of great joy and consolation for Me.
How many crimes are committed against Me in the Eucharistic! S (02-10-48)
Awaiting the Longed-For One
Many times Alexandrina had the grace of a priest to celebrate Holy Mass for her in her room:
Holy Mass has begun. All the time I had to force myself not to leave my bed. I seemed to be all immersed in Jesus as I contemplated with joy the sacred Hosts that were on the altar. What a joy: one of them would be food for my soul! C (30-05-41)
What a great grace! He came down from Heaven to earth for my love!
At the moment of receiving Him, I felt impulse to abandon myself to the sacred Host, to hug it, to devour it. C (31-10-41)
When the Holy Sacrifice of the Mass was being celebrated, my soul experienced a peace, a well-being, a sweetness.
I offered myself to Jesus, through the hands of the Heavenly Mother, to be immolated with Him. C (30-10-40)
At the elevation I felt an impulses to raise myself and to fly to the Jesus-Host.
I controlled myself and waited for the moment in which He came to me. (...) C (30-10-40)
This morning, when I was preparing myself to receive my Jesus, I felt in my soul a so great emptiness that the entire world would be unable to fill. I was hungry: I wanted to fill myself.
But my hunger was not for bread nor for things of this earth: my heart yearned and longed for Jesus. S (07-02-48)
This morning I had made my preparation to receive Jesus, and my parish priest arrived. He placed the Longed-For One of my soul on the table,. After lighting the candles, he said to me: - Here you have Our Lord to keep you company for a little while. Fr Umberto will come later and give Him to you (Fr Leopoldino had to leave urgently).
As soon as he left, a force coming from I know not where, compelled me to rise (she was paralyzed, but, when she relived the Passion she left her bed and made the movements of one carrying the Cross. However, after 1942 she relived the Passion interiorly which was very painful, but precluded her rising from the bed. Here we are in 1944).
I knelt before Jesus, I leaned on Him: my face and my heart never had been so close to Him before.
What happiness I felt! To enjoy so closely my overpowering love!
I whispered many things to Him, requests for all those who are dear to me, and for the entire world.
I felt that I was burning in those divine flames. Jesus spoke to me, too:
- Love, love, love, my daughter! Have no other concern but to love Me and give Me souls. Where God is, is everything: there is the triumph, there is the victory. I asked the angels to come to praise and to sing to Jesus with me; I always sang, until I was obliged by Rev. Father to go to my bed.
Imprisoned and on fire with the divine love, I received the Holy Communion. S (12-10-44)