FRANCIS REYNOLDS
R.I.P. 04/09/06
By Jocie Mc Evoy

Francis was born in Co. Cavan, Ireland, one of eight children. First Holy Communion was an extremely important event in his life when he felt himself drawn to the Priesthood. However this was not to be – God had other plans for him, plans which were not to be revealed until 40 years later.
In the meantime Francis emigrated to England where he carried on a successful hairdressing business. He married Sheila and they had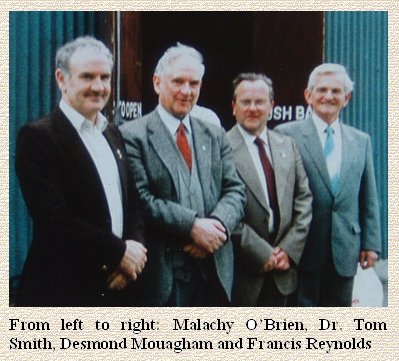 three children. Eventually, on retirement they returned to Ireland and settled down in Belturbet, Co. Cavan.
Francis, at that time – possibly the early ninety – was a daily Mass goer. One morning on returning home from Mass he found a few religious leaflets in his hallway. Among them was a picture of "The Servant of God Alexandrina Maria da Costa". It had an extraordinary effect on him and he felt compelled to find out something about her.
That wasn't easy however, everywhere he drew a blank, no one seemed to have heard of her until an address written in small print at the end of the leaflet gave the first clue. It was the address of Dr. Tom Smith, Ballybay, Co. Mougham, who for years had been promoting the Cause of Alexandrina and who even in those early years had visited Balasar. He was only too pleased to help Francis and gave him any information he could.
By 1993 Francis had decided a Society dedicated to promoting Alexandrina should be formed, and so we had our inauguration Mass in a lovely little church in Redhills, Co. Cavan. Father Brian Brown who was Parish Priest there became our Spiritual Adviser. Afterwards the first members were enrolled.
As membership grew it became necessary to have a Newsletter published e few times a year, as well as an annual Mass and meeting at Our Lady's Shrine, Knock, Co. Mayo. An Alexandrina Society of Ireland banner was made and one of our members organized a pilgrimage to Fatima with a day in Balasar. Sadly, because of ill-health Francis was never able to accompany us. This pilgrimage became an annual event.
Francis had a tape made explaining how he came to know about Alexandrina. Not being able to write to everyone he took to phoning.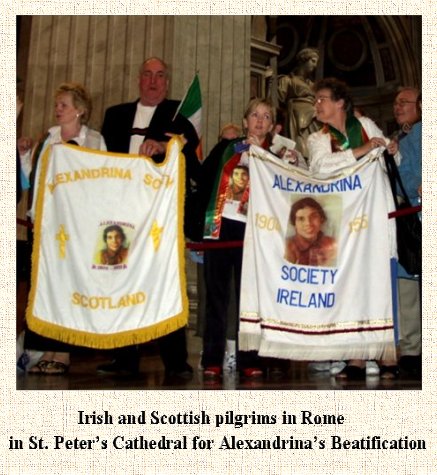 Long distance calls never deterred him. Once he rang a lady member in Sri Lanka, her husband answered the phone and sounded hungry – and no wonder, it was 4.00 A.M. with them there!
Around this time Francis' health began to deteriorate and his stays in hospital became more frequent, but he never missed a chance to promote his beloved little Alexandrina.
Once when a new Parish Priest called to his home Francis immediately asked had he never heard of Alexandrina and on being told "no" gave the Priest this tape on condition he would listen to it.
The Priest left it aside with the intention of listening to it on a car journey, but before that could happen he found himself visiting Francis in hospital. He was in the intensive care unit and appeared to be asleep. However when the Priest entered he was asked "did you listen to that tape?" and on admitting "No, not yet", Francis closed his eyes again and said "You are the same as the rest of them".
He was certainly forthright and honest, a worthy trait not always appreciated.
During the last months of his life he suffered both physically, as well as the humiliations that total incapacity brings with it. For a man as modest as Francis this was a great trial.
By mid-August '06 it became apparent that little could be done for him and so he was discharged home to Belturbet. He died in Sheila's arms on 4th September. R. I. P. His suffering was over.
As his funeral cortege made its way to his local church, I couldn't help but think of the words of Alexandrina "When you hear the bells ring for my death, go down on your knees and pray and thank Jesus and Our Lady for coming to take me".