In its edition of 26.4.09 the Diário do Minho, the newspaper of the Archdiocese of Braga, carried news of the fifth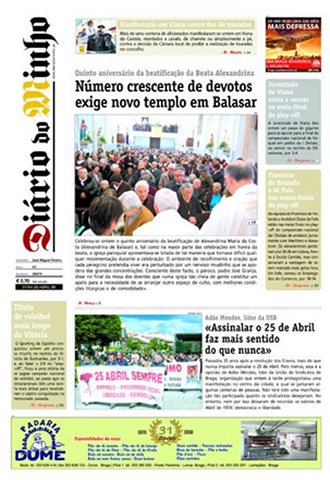 anniversary of Blessed Alexandrina's beatification on its front page under the heading: Balasar Needs New Church for Growing Number of Devotees. But what was actually happening in Blessed Alexandrina's parish was to be found on an inner page. It also took the opportunity to publicize some interesting information obtained from the parish priest, Fr José Granja. Here is a little of what Fr. Granja had to say:
"A new Stations of the Cross was recently inaugurated near the pastoral center. It is noteworthy that each station has a cross which is inlaid with a stone from the pavement which led to the palace of the Anas, the contemporary high-priest of Jesus".
"Also a social centre for the sick and elderly of Balasar has been set up. It is attended by about 30 people a day. Rita Marins, a social worker, is in charge of the activities provided for the group".
"This is an initial part of the establishment of the Alexandrina of Balasar Foundation, an entity that will manage everything that concerns the cause of devotion to the Beata".
It is also worth noting that the relics of St. Margaret Mary Alacoque, which will be in the Monastery of the Visitation in Braga from next May, before going to the Basilica of the Sacred Heart of Jesus in Póvoa de Varzim, will visit Balasar the 14th of the June.
In March, there were visits to the Official Alexandrina Website from 102 countries.