SENTIMENTS OF THE SOUL
1944

November 18

If I am not alive, who is suffering? If I do not exist, why do they persecute me? My God, my God, I feel I that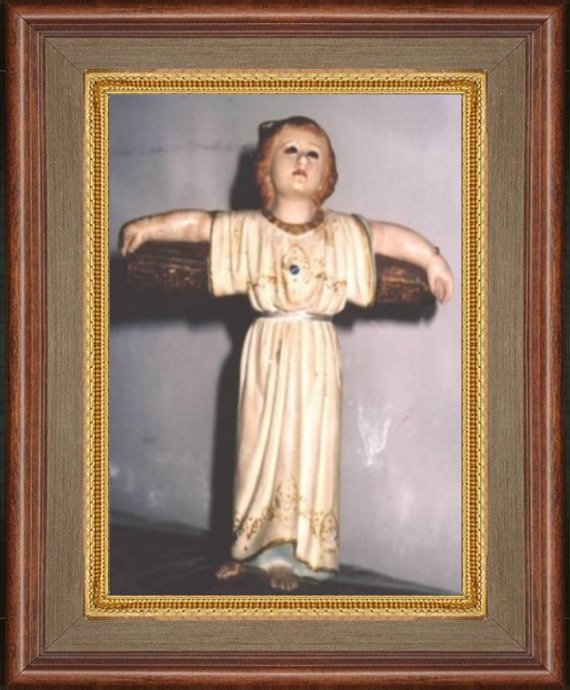 died yet I'm still here. I feel that I passed into eternity yet Iím still in the world. O life, my sad life! The devil doesnít leave me alone. In this latest attack he seems to have redoubled his wickedness.
- You sin when I want, as I want and I take you wherever I want. Look what a life you have! What a life of suffering, when you could be enjoying yourself! Snap out of it! Canít you see that God does not want you, that He has abandoned you, that He hates you. You are mine. You can sin at will.
He gave me his false and shameful lessons. He promised the world as a reward for sins. Without answering him, I said to Jesus:
Even if he gave me the world for a single sin, I wouldnít want it, my Jesus, even if I knew that You did not condemn me, that You didnít mind, my Jesus, no, I wouldnít want to commit even a slight fault: Your divine love does not deserve it. It's for love and not for fear that I do not want to hurt or displease You in the slightest thing.
I seemed to be a filthy rag when I was in the hands of the devils. Their fury reached full height. I cried many times:
Jesus, Jesus, Heavenly Mother!
Suddenly He appeared. The storm calmed without His putting His divine hand on me; I felt that it was only His divine Breath that gently carried me to the couch. A sweetness and softness soothed my bodyís fatigue, my soulís pain, and gave them a great peace. Then, very calm and serene, in the usual position, Jesus told me:
- I saw, my daughter, I was present. You have not sinned, you consoled me greatly. Only from an angel in the flesh, only from a pure virgin, pure, innocent, innocent, innocent, can I receive this reparation, the greatest reparation.
I love you, love you, my dearest dove!
I remained in an unruffled, quiet peace. I fell asleep for a while: it seemed to me that I slept while Jesus fought my sadness bitterness and doubts. O blessed pain, how I love you! In you I see only Jesus and souls!
November 21
I will dictate what happens in my soul, to obey and not to satisfy my desires. I have always before me the enormity of my past miseries and I fear always new falls. How awful for me to see what I've always been! How can I, sheer misery, say anything? Sad, really sad are these thoughts and fears. My confusion grows to see myself empty-handed, without seeing any good gained in a time that is now gone forever. I'm going into the presence of my Jesus with nothing, nothing at all! My God, I am without life to practice good, and without love with which to love You. Life is so short to love and to practice good; I donít feel alive, I donít feel capable. To go to You, Lord Jesus, to love You and bless You forever, one hour is an eternity.
How can I be here? My life fled to a height and from there contemplates the place where it left this poor body; meanwhile the body belongs to I donít know whom, it simply goes on fighting and suffering pains which I scarcely can express.
Waves of fire come from within me, burning fire; I even feel them burning my tongue. How many times do I ask to take a little water to my lips to see if I can quench my thirst? It is impossible: the fires remain. How many times I take the water without being able to swallow. Oh, how the damned in hell must suffer!
During these three days, I was tormented violently by the devil only from Sunday Monday. He used his evil and ugly words as usual. I saw maybe dozens of them in front of me, in the form of skeletons, and near them were the ugliest places of hell. The evil one to convince me of what he said and to make me feel it, told me that it was not only he who did evil, but that there were many of them; that it would be a night of revelry and enjoyment. And after the fight with him others came, one by one. It was very slow: I was bathed in sweat. I cried so much to Heaven! It seemed to me that such suffering will never end; and this was said in the threats I heard. Suddenly I do not know by whose order, all disappeared. And I, for space of long time, repeated incessantly:
Oh Jesus, oh Heavenly Mother! My God, if they relieve me here, they hurt me there; if they support me here, there throw me on the ground there.
I continue to feel the horrors of a far off storm. I feel hearts turning against me, trying to kill my name, trying to kill everything that exists in me, while within these poor walls I suffer to the limit of my strength. My name is driven through the world like a leaf swept by the storm. I am humbled, crushed, persecuted and maligned. And for whom, my Jesus? You know well for whom. For You, only for You and for souls.
I feel this body is a mass of blood, I feel it is between two mountains where it is crushed until it is reduced to nothing and disappears. And my cry of distress does not rise to the top of the mountains. My God, all is dead, all is lost! And I am alone, I have no one. There is not a ray of light to penetrate between these two mountains, to the torture chamber. Who can save me? There is none. If there was anyone, and I could, I would go on my knees to ask for help but they took the one who suffers so much into captivity; I needed him so much then, and I need him now. Oh, how much light I would have received and how much more love for Jesus would I possess! If I could, I would go kneeling alongside those who made me suffer, and ask them:
- In what did I offended you? How did I offend you? Tell me in what, and forgive me, and if you were not offended why do you treat me like this? Why do you hurt me so much? Donít you have a heart!
Forgive me, O Jesus, forgive them all because they donít know what they do. If they knew, they would not do what they do. Oh, Jesus, have pity on me, I can do no more.
I have not confessed for a month. My soul is hungry, it needs the grace of absolution. My God, my Jesus, have pity on the agony of my soul, have pity on this body which is hardly a body and seems not to be mine.
Plunged in this pain, of which I can give no more than a faint idea, crushed under the weight of all the sufferings and unable to breathe, I am so abased that I cannot even remember to ask Heaven for help.
It was night, I know not the hour, I saw beside me the Heavenly Mother of Fatima; she did not stay long, nor did she speak to me. I felt she came to show me that I was not alone, that she was at my side. Freed from my torments, a calm entered into me and I could sleep.
Men can do everything, can judge me according to their judgments, but what they cannot do is deprive me of these visions, deprive me of loving Jesus, take from me my union with Him, neither can they uproot from my heart the union with those that He and He alone, allowed, that He and He alone put in this tiny heart in love Ė tiny, but so great in its desire to love Him and in its longing to belong to Him alone. All this suffering; only Jesus knows the immense pain that it causes me, only He truly understands and sees it, only He causes new desires to be born in me, a deep longing to live only for Jesus, to belong only to Him, and to love only Him. The weight of suffering makes in my heart so alive and stimulates a loving desire to walk among thorns and to seek Jesus and souls, just as thunder with booming and trembling causes water to burst in the depths of the earth. Suffer? No matter. I love Jesus: that's enough for me.
I asked that the lily that I was offered to take to the grave be put over my chest, supported by my hand. I felt so happy and, at the same time, an almost unbearable longing to see this day come, the day of my true happiness, my real life.
This morning, upon receiving my Jesus, I felt so on fire with his divine love, so joined to Him and so alone with Him; I unburdened my sorrows. I told Him, as usual, that I did not want to deceive myself or deceive anyone. And He, so tender, so full of compassion for me, told me very softly:
- Never, never, my daughter, will I allow you to be deceived. What I say you, is to encourage you, and prove that those were my wishes.
My time is short, that's why I say 'soon' and it is soon that my divine promises will be realized; what I say you, this is what I want: men are going against my divine will. I will conquer and I will triumph over them.Ē
Accept, my Jesus, my tears: today they were not able to get the better of me. They were tears of love and sorrow for my sins. Receive my pain for all those who donít have it, accept my tears for all those who ought to be crying for their faults and do not cry. I give myself to the cross to suffer and to Thy Divine Love to love You.