SENTIMENTS OF SOUL 1944
February
I felt my soul breaking away from the earth and climbing higher, yet still giving life to my body, which was down here. It was as if an electric current served as a union between the two. This separation came at great cost to my body, whose eyes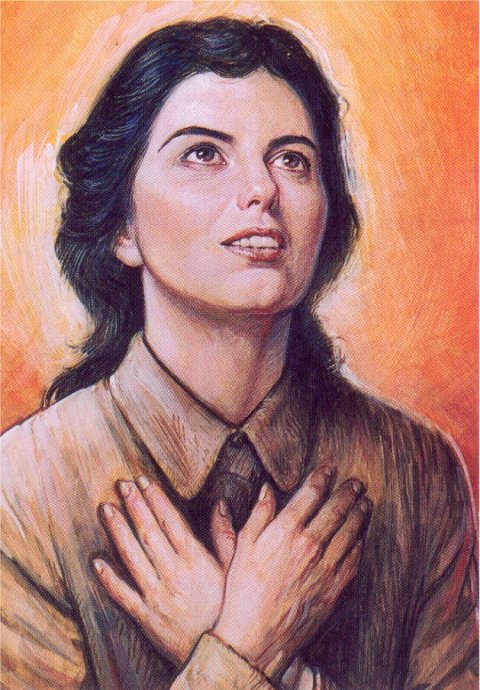 were fixed on the crucified Jesus to relieve their pain. Meanwhile, I sensed that my soul was in our Heavenly Mother's lap, and that she was holding me with Her dead divine Son.
This enlightened my intelligence by giving me to understand that what Jesus had promised me on 15th August 1943 would not have been done in the way that I'd thought more natural, this is, that I would have gone to the Heaven forever, but that I would go, and then come back.
This light was not merely the impression of a moment, but a new transformation that took place in me and that obliged me to say that I certainly would not have died, but that Jesus was referring to this new state of the soul.
I had convinced myself to imagine something that wasn't going to happen, actual death on the day designated by Jesus.

May 13
A new transformation in my soul. That little breath of life died completely. I no longer feel again that I am breathing as I had breathed before. Pain lives in me, a pain of particular quality and kind. I am dead, I died for the world and for creatures. Everything fell into the tomb and was buried forever.
My God, what horror! I am no longer living, only my beloved pain lives, only my inexplicable martyrdom lives. Shall I be able, without life, to give life to souls? Can I still be useful to humanity? O Jesus, O Jesus, can I still love You and console your Blessed Heart?
Poor me! After the hatred and abandonment, after the oblivion of contempt, I went down to my grave, and now I live in eternity. You haven't given me back my dear Father and I no longer have the Holy Mass here. Never again, my Jesus, I will have never again experience joy, except with my eyes on You. May they give me back everything that was stolen. I feel that everything is death for me and that it is already too late to have what I most loved and esteemed, after You, restored to me. O my Jesus. Oh the Holy Mass! My spiritual director! And everything, my Jesus, everything else! What horror! How to resist to so much? It was not me, my Beloved, it was You in me, it was Your love. Thank you, my Jesus! Continue to support me, give me strength.
My eternity has no light: it is an eternity that does not love You, doesn't praise You, which does not see You, which does enjoy You. Tremendous eternity. Not to see Jesus is an eternity of death.
Only pain triumphs over death. It is what I live in the eternity that I feel. Whatever the state of my soul, Jesus, don't delay; fulfill your holy promises. I hope, I hope, trusting in your love. Give, Jesus, give life to souls with my death, with my eternity. Give them your eternity; give them Heaven, Heaven, O Jesus.
May 29
I was in great distress and, after receiving Jesus, I was unburdening myself to Him but without expecting an answer. But He, good as ever, deigned to relieve me:
- Tell your sister, my daughter, that I am seeing up to which point her trust in Me reaches. Near your Calvary she plays the role that my Blessed Mother played near mine. Tell her that I expect much from her. If it was not thus, I would not involve her so fully in your martyrdom.
And, concerning the one who was making us suffer so much, He said:
- Up, have courage. Satan is furious, clutching at you with his infernal claws. Trust! He will not win. She is foolish: she treated you with the greatest ingratitude but forgive her with all your heart, just as I forgive her. If she knew how much I suffer! She receives me coldly, by habit, as a routine. What sorrow for My Divine Heart!
June 16
It was the 16, the Feast of the Sacred Heart of Jesus. I cannot forget: Jesus repeatedly confirmed what I had said, and promised, at the beginning of my crucifixion, that it was a privilege for me to let myself be crucified, that the gates of the Hell were closed from noon on Friday until Sunday midnight, from sun's midnight. When my Jesus stopped my crucifixion, or rather, when He changed the way of crucifying me, I continued to remind our Lord every Friday, at the usual time, that He continue to close the gates of the Hell, because I considered that I retained the right. Because it was You who denied me the crucifixion; I did not refuse it, I told Him. Our Lord came, took hold of me and, putting me in our Heavenly Mother's arms, said:
- My daughter, my daughter, come, relax and take comfort in the arms of your Heavenly Mother. You are caressed and nourished by Jesus and Mary.
I felt then the caresses of the One and Other.
- You are being soothed by the Angels.
I tell you, my daughter, Hell will be closed for even more days because of you. I give you Thursday afternoon in honor of the Eucharist and the love that you have for it and for that which led Me to be imprisoned there, and so it will be until Friday mornings. I give you Wednesday morning, too, in honor of my dear father St. Joseph, whom you love so much. O my daughter, how I long to see him loved! Look, my daughter, I want, I demand, that you proclaim that whoever has firm and constant devotion to him will never seriously offend Me to the point of being lost.
I asked Our Lord to give me two more hours, on Monday and on Tuesday: I do not choose the hours, Jesus, but I want them so that even fewer souls will fall into hell.
- Yes, my dear one, I give you everything, because of the love with which you allow yourself to be crucified1.

June 25
It was at the end of the afternoon, the sun was about to set for the night, but for me there was no sun or day: everything was night. The dismay, the rebellion, the fight that I felt in my soul were almost unbearable. My God, rather hell than lose You! What should I do? Jesus, Heavenly Mother, save me, do not let me fall.
O my God, oh my God, Heaven seems not to exist. The struggle continues and the torment of doubt and my crying to the Saints is of no avail. I trust, Jesus, I trust, Heavenly Mother, but time passes and there is no relief for me, I feel myself abandoned by earth and by Heaven. Jesus, Jesus, poor me! I do not want to deceive myself or deceive anyone.
New proof of the love of Jesus: He came up to me from the abyss of darkness and death. He took me in his divine arms, held me to his divine breast, let me to drink the blood of his Divine Heart. How wonderful! What infinite goodness! I felt the blood of Jesus's Heart flowing for me in all its abundance. And Jesus, full of sweetness, was saying to me:
- Courage, my daughter, take comfort. My divine Blood, my flesh is your food and your life.
Jesus filled me, raised me: the day dawned, the sun shone and warmed me with its rays. Now the world could do nothing to harm me. Oh, how good is Jesus, and how ungrateful I am to Him!
July 3
I do not know if it was due to my suffering, but I was in great prostration and had almost forgotten that I had received Him [Jesus]. O my God, what a state for my soul to be in!
Suddenly, I saw Jesus in front of me, nailed to the cross, and soon He disappeared. I felt myself dead, and dead I remained: life seemed not to exist for me. Some moments passed.
Again my Beloved came, but this time full of charm. It was the Blessed Heart of Jesus. His divine Face was so beautiful! All was brightness, everything was light! He moved closer to me and whispered to me while he was offering his Divine Heart with a large wound from which issued a huge golden flame that could ignite and burn the whole world:
- Keep my Divine Heart in you, my daughter, so that the sinners can no longer hurt it.
I do not know how the Heart of Jesus came to be in me. He was lost in me and I in him. Oh, how great is the love of Jesus ... What transformation of my soul! I had life, courage and the strength to walk.
O suffering, how sweet you are when you're accepted for the love of Jesus. But oh, how much it costs to wish to comfort and not to be able to do so, to protect his Divine Heart, to satisfy his holy desires and not to know how to. Poor Jesus, to whom do You deliver your Heart for safekeeping! Where, Jesus, can I hide it so that it will not be hurt again? I am misery and decay. Transform me, purify me and then come into me. I love you and I am yours.