BLESSED ALEXANDRINA'S WRITINGS
— 13 —

March 20, 1942
Jesus, I do not want to live in illusions any longer; I want to live only in love and confidence. Cut away from me everything that is earthy, I want only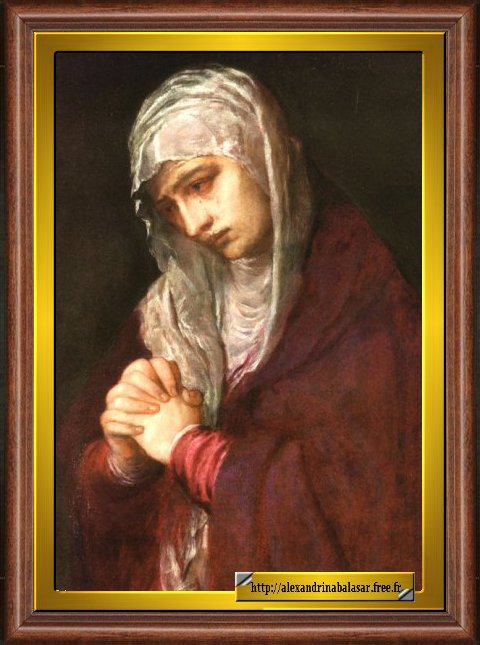 to hope in You, I want to be strong, but I can not, I crawl day by day, and feel in my soul that new attacks are rising in me. Everything is rebellion. I see a world of lions rushing at me in a rage to devour me. What anguish in my soul! What profound sadness in my heart! My soul trembles with fear along with all my body: I cannot live like this. Is it because the end is drawing near? May it come, may it come quickly. Heaven is my hope. I wish, on all the paths I have taken during my life, to leave word of your love written in my blood. They are roads of warfare, paths of black darkness, darkness such as there never was, abandonment such as never I imagined possible. I raise my hands to Heaven, to Heaven which I so often gazed at and contemplated with love, but I don't see it. I shout with my whole strength, from the bottom of the heart, but my cry does not rise, and it seems that Jesus doesn't hear me! Abandonment, what complete abandonment! ...
Jesus, feel pity for me, it seems to me that I have lost You and that I have lost my Heavenly Mother. They have taken from me the support, guide and light that you had given me for this earth.
Jesus, Jesus, look the lost, crazed young girl that suffers and accepts everything for your love, and to win souls for You.
Jesus, Heavenly Mother, I want to suffer everything, but I have no strength to help me. I am alone. I can say along with You: Father, why have You abandoned me?
Do you want me to be like You? Thank you, my Jesus. I feel the weight of your Cross. I feel that they are wrenching my heart, I feel that I will die crushed, but I want always to say: How sweet is to die for love! O how is sweet to fulfil the will of the Lord!
Jesus, when the crucifixion approaches, the dread increases, I feel myself nailed onto the cross, breathing from one breath to the next until the last.
The agony increases, my body is abused mercilessly.
O world, O world, that does not know the pain nor the love of Jesus. Only with Him can you embrace the Cross, only with Him is the road to martyrdom!
The time of the crucifixion has arrived: I am not able to fear it any more. My body had not the strength; all the help of Heaven is lost to me. Thank You, my Love, Thank you, my Love, you presented Yourself to comfort me.
-- "My daughter, listen: it is Jesus who is approaching, He comes to drink at your font, he comes to satisfy His hunger with your charity. It is with your crucifixion that the world receives peace. Courage! Your dear Father helps you from afar as if he were here. I did not take him from you. I accompany him with your Heavenly Mother to support you. Courage, courage!"
I walked to Gethsemane, my Jesus; for some time your divine words were engraved on my heart. Gradually in the darkness I could not see anything, and I was so faint I could do nothing. I suffered as if I had never heard of You nor encountered You. What sad abandonment! I began to feel blows striking my heart; they wrenched it from my chest, making it fall to the ground, crushed, beaten. It was not my own, but yours, my Jesus. What pain caused me to see You suffering so much and to feel that You wished to cover Yourself with earth, because it was the veil that was covering up the sins which covered You. Impossible! You couldn't escape the sight of the Eternal Father. He saw You covered with the stain of sin, and was revolted. I heard your sighs, I felt your tears. You had no witnesses; the apostles slept; freed from all cares, they could not see that you were sweating blood. Only when You raised Yourself to call them, they saw your soaked clothing. Without understanding anything, they went back to sleep. Poor Jesus! You suffered alone. What a lesson for me! In the palace of Herod I felt on my shoulders the cloak of kingship and on my head the crown; I felt your pain and great suffering in my heart. During the scourging I went to rest in your divine heart. It was as big as the universe, I could explore it all, but no, I was too injured; I kept my energy for You, rested until the executioners returned.
During the crowning of thorns I rested in the arms of my Heavenly Mother, I felt that Her mantle covered me, Her blessed hand was caressing me, Her face next mine was soothing my pain. I felt myself tired, without joy. In Her arms You didn't allow me to be hurt, but when I went to them I was already covered in blood.
I walked to Calvary, I felt that it was impossible to reach the top; my life went away, strength failed me. I invoked my Heavenly Mother, I invoked your divine name, my Jesus, I asked for your divine strength. I heard You say to me:
— "I will fill with my divine wealth the Cirenean who, with so much love, follows you along the path of Calvary, just as I chosen for the first Cirenean to help you from far as if he was here. The reward is great, it will be spoken through the ages, as it will of those who closely follow your pain and sooth it."
I came to Calvary. I felt the nails in my feet where I was crucified and another in my heart. Everything was in dark and total abandonment. From beyond came the sound of great blasphemies you heard my sighs, and the tears of bitterness that fell with the pain. I cried to heaven with all my heart; it was closed, it didn't open for me. O pain, O pain, O abandonment that are accepted only by love!
All the passion finished, but the pain had reached its limits. I knew that I was right to feel the new assault in my soul. What a pity, Jesus, that the value of obedience and all that You work in souls is not known! My heart cracks with pain. The humiliations throw me to the ground. To be strong, only with You, Jesus. What can I do for those who hurt me? Accept, Jesus, the nauseas that I feel, which does not allow me to satisfy the thirst of my lips, so that they do not reject You hidden in their souls, so that they love and know your truths. Give them everything, my Jesus, because I give everything for them. Forgive me, Jesus. Give me your blessing, grace and love.
March 27, 1942
Jesus, hear my words, it seems to me that You are already buried under the weight of death. Again I want to say to You: I am yours in time and yours I will be in eternity; I give myself only to You and to You I want to belong. It is with a soul in anguish and a heart torn with pain that my lips again babble these words: for love alone.
The dense darkness does not let me see, my only feeling is the blood draining from my poor body. I feel myself alone, you robbed my comfort, the relief of my soul, my refuge in the land. I must fight, abandoned, in the most difficult struggle. Sometimes I cannot resist the longing to see the Holy sacrifice of Mass celebrated in my bedroom. Everything stolen, everything lost! Forgive those that caused me all this, my Jesus, for all of them I ask your compassion and light for their blindness.
Amid this sea of suffering and in this struggle in dense darkness, in very dark night, my soul enjoys the greatest peace. I am not afraid of appearing in your divine presence. I wonder, sometimes, whether this is pride on my part. How can I know, my Jesus? Is it hidden in my ignorance? You gave me the grace of knowing the abyss of my misery, but at the same time I see that greater, infinitely greater, is the abyss of your love, your mercy and compassion. I trust blindly in You and I hope in You. Oh my Jesus, is the infernal demon trying to harass me, to dislodge me from the peace of conscience, to tend me in some way to the earthly things. When I feel myself removed from the anxieties of the world and flying towards You, to the celestial Homeland that waits me, these things that torment me so much appear quickly in my imagination: "You are in a great hurry to leave your family and friends, whom you will not see again; everything ends with death, there is no Heaven or Hell".
Jesus, Jesus, I love You, I believe in you, You do not deceive anybody: do not let the cursed one confuse me. I did not want these words to be known; I do not want to shock anyone, I do not want to take the faith to those who have little, and to plunge into greater error those who have none. Forgive me if I should not say it. My good Jesus, my sweet Jesus, I have been crying with fear of my crucifixion. Ah, poor me, without You! Don't fail me, my good Jesus, with your divine power, I have no strength, my life is lost. During the evening and the morning of today You encouraged me your divine presence. You presented Yourself to me, with the cross on your shoulders, bent to the earth, weakened and without life, surrounded by vile scoundrels. When I see God so suffering for my love, I can not refuse You my crucifixion; I accept it for your love, I accept it for souls. Take me, live in me, activate my lifeless body. It is time for the crucifixion; do not fail me, my Jesus, give me grace, strength and love.
After the crucifixion
Jesus, do not fail me, give me your strength and your holy protection so that I can describe as well as possible what You suffered in your passion and love for this poor victim. It is for your greater glory and for the benefit of all souls.
The eyes of my body seemed almost not to see when the moment of crucifixion got closer. My weakness frightened me; the abandonment in which I found myself led me to the grave. What a torment! To have no life and to have to fight against the world. Your life and your love came down on me, I heard your sweet voice:
— "My daughter, O love of Jesus, courage, don't be afraid, don't be afraid. The path to Calvary is finishing: come and tread the last thorns. From the wounds made by them rise the springs of salvation. Souls need everything. Jesus' consolation is in your crucifixion, He finds in you all the reparation that can be found on earth. Courage! Jesus, with His blessed Mother, doesn't fail you. Your dear Father is accompanying you in spirit with my grace, he helps you in union with Us".
I went to Gethsemane: in the middle of the abandonment I recalled your sweet words that for some time I have kept engraved on my heart. Then, with the blows that I felt, for the mistreatment that has been given to me by humanity, everything disappeared. And there, alone, in deep silence, the greatest darkness, almost in death, I sought to hide myself forever, to have the earth as my hiding place, not listen to the threats of the Eternal Father.
My God, good Lord!! And me alone! It was not blowing a breeze, even the leaves of the olives trees had no movement except to bend their branches to the ground, as a sign of adoration. Oh pain, oh agony of Jesus, oh the delirium of the love of Jesus for souls! These sufferings were not mine, but yours, only yours, my Jesus.
I followed the footsteps of the Passion: here, and over there I was falling succumbed, crushed by pain. Repeatedly I invoked the name of Jesus and my Heavenly Mother; I asked your strength, because all mine was lost.
Thank you, my Jesus, with You I was resisting. During the flagellation, when I was being protected in Your divine Heart, I saw in front of me the executioners prepared the whips in order to punish my body yet more. Covered with your divine Love I was not afraid of them. During the crowning of thorns, when I was in the arms of my Heavenly Mother, I also saw them in front of me joining together sharp thorns, like a helmet, in order to nail it on my head. The caresses of my Heavenly Mother made me forget that they were being prepared for me. Oh, how vast is your power and your love, O Jesus!
I walked lifelessly towards Calvary to come the end; I could not walk, my strength was failing. In the second fall, obedience forced me to come back into your divine Heart; I heard that You said:
— "My daughter, all my thanks and all my love are extended to the Cirenean that helps you and on all his descendants until the end, and to your dear Father here at your side, and to souls that are close to you, and my love caresses you, softening your pain. This is not called earthy love".
I have been nailed to the cross. With every blow they used to nail me, I was fainting. The whole of Calvary was darkened, the sighs of my Heavenly Mother could barely be heard: they were stifled by the blasphemies, I felt them in my heart. It seemed to me that I would expire shortly and that You wished to tell me that I would die before the coming of my dear Father.
O my Jesus, this light that You gave me obliges me to trust more in You. It is true that I had never experienced an abandonment to compared with this, I have never been so cruelly injured, but instead of cooling my faith, my confidence, and my love for You, I feel myself more attracted to You. Everything invites me to love You, everything inspires me to ask You for forgiveness for those who hurt me. Forgive them Jesus, and give me my dear Father at least at my death, for the last time, so that I open my soul to him. I trust, Jesus, that You won't fail to grant my request and that You will fulfil your promises literally.
Forgive me, Jesus, give me your blessing.