SENTIMENTS OF THE SOUL 1944
16 October
Moving forward, always dragged by someone, without giving any sign of life, my ashes are being buried, from moment to moment, in this vast cemetery, this endless deep. A mountain of ruins, of miseries and sins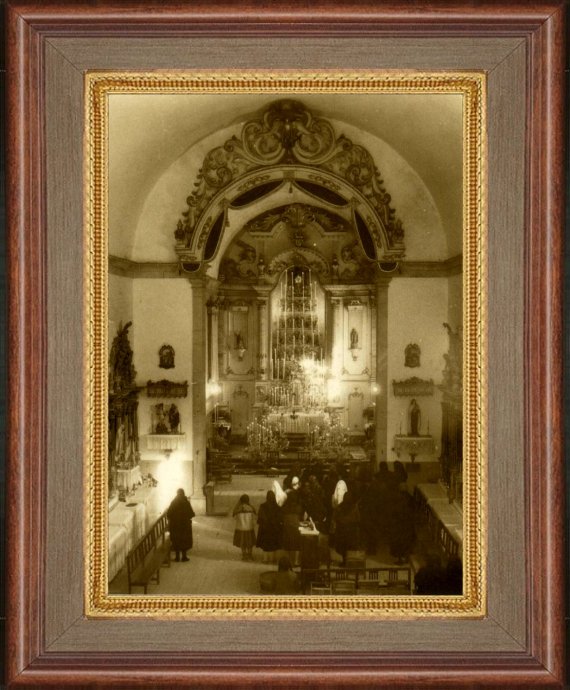 envelops them, plunging them deeper and deeper into the abyss. Oh, my God, everything passes, everything disappears! I do not know why but I feel a rain of blood falling on these poor lifeless ashes now, almost completely dissolving them. That blood forms rivers, bathes these ashes that are immersed in it, thus forming a mass of blood, only blood.
What is this, my Jesus? I do not know. It is painful to me, but it is enough that You know what it is as long as, in the midst of it, I have loved You! My desires are deep; they are very much alive. I do not want a single moment of my life to have passed without repeating again and again, I love You, my Jesus, I love You. I do not want another movement, or another word from my lips.
Jesus, the infuriated devil doesn't stop his attacks; be with me so that I can resist his diabolical fury. In one of his most violent, he accused me of being the greatest sinner.
– And yet you say you that you are innocent and do not want to sin, and that that is all you want.
He told me more, much more.
– Oh my God, You know well that I do not see myself as innocent and that by Your grace and mercy I know my misery. My Jesus, I am your victim.
While I renewed my offer to Jesus and was telling Him, I do not want to sin, the devil kept saying:
– Criminal! Criminal!
And Jesus inside me, ready to defend me, said:
– Innocent! Innocent!
The devil, trembling, turned his face as if he was looking for someone, then fled in despair. I could not hear well, but it seemed me that he blasphemed against Jesus. Everything calmed down and soon I fell asleep.
I live in anguish and great terror. My God, how afraid I am of committing sin! Even today I heard in the distance the seductions and ugly words of Satan. Hearing his tremendous threats my terror increased more and more. I looked at the crucified Jesus and said:
Blessed be each day's cross, blessed are the sufferings of each moment!
It made me think of a condemned man being led to martyrdom, one that goes because he has to, and while walking, desperately, he curses everything. So it happened to me. The devil led me with his tricks, challenged me with his evil deeds. Love for Jesus and for souls forced me to walk. At the height of my distress, my curses were these:
– I am yours, Jesus! All for You and for souls! I do not want to sin! Oh, not to sin, my Jesus! I am your victim.
When the fight finished, the heart discarded in pain, bathed in sweat, I finished in tears, with the awful fear of having sinned.
You know well, my Lord, that I do not want to offend You, I trust in You and in the words of those who direct me. In return for my pain, give me souls, all souls and your love without an end.
17 October
Today I feel my body so exhausted that all I can say is that it is crushed; it is ash, only ash. The devil left me in peace, or rather, as much as Jesus allowed. But once he took advantage of my state of weakness to attack me violently. It was the only attack on the day, but it was very dreadful. Calling me many bad names, he told me:
– You say that I'm torturing you, and you see that you want to sin. Today you have not done the things you usually do, because you feel tired. You see that you sin and wish to sin.
Continuing to tell me horrible things he said:
– Get ready for a night of sin, for a night of offending that God whom you say you love, who has nothing but contempt and disdain for you.
The battle was terrifying. At the height of so much agony I turned to Jesus and His Blessed Mother. My poor heart seemed to me to have the bustle and noise of a factory. My chest was too small to contain it.
Jesus, I am your victim; Jesus, I do not want to sin! Blessed Mother, save me! Oh, what will become of me!
Bathed in sweat, I began to cry. After reflecting well on the danger I was in, I cried deeply and painfully:
Oh my God, I am in your divine presence. What shame, what shame, my Jesus!
After this, a voice that could only come from God calmed my soul. Once at rest, I didn't think that I had offended Jesus. I was in an agony of loving Him and said:
O Jesus, if there were new inventions of love, how I would want to use them to love You! If there were factories that invented love and if it were possible for me to build such factories throughout the whole world, that's what I would do, Jesus. I want to see the whole world, heaven and earth, loving You for me. I cannot contain myself, Jesus; Jesus, my sweet love, I do love You: see my desires, see the cravings that consume me.
18 October
The demon threatened me repeatedly, but his threats failed. Jesus did not let him torment me during the night.
This morning when I was preparing myself for Communion, doubts tormented me for some time, but after Jesus came into my heart, all doubts vanished. I felt a great peace and a sweet union without being able to separate myself from Him for whom alone I sigh. This sweetness of the soul, this anxiety and madness of love for Jesus gave me encouragement, gave life to the ashes of my poor body. It supplied everything I needed.
Some hours after Holy Communion, the evil one devised new ways to torment me. My mother and a cousin were returning from Póvoa, but the train took hours to come. My sister was waiting for them at the station. The delay was long. Nobody appeared. The wicked one, a short distance away from me, began to hurl the greatest abuse and insults at me, using the most indecent and ugly language.
– Look, my criminal, your mother and your cousin are dead. Their bodies are destroyed. They are neither in a hospital nor a cemetery. Ditches have been dug to bury them where the disaster took place, they and hundreds of others. No one escaped. So many innocent people dead because of you, you are guilty. It was to punish you for your sins that God did this; He saw no other way to punish you. He sent me here to warn you that all this was because you offended Him so gravely. Your sister went to meet them; she was killed near their crash.
I saw and felt in my soul ditches, blood and all that disastrous wreck. They were no corpses; just blood, and pieces of flesh. My God, all this because of me! I felt myself truly the greatest sinner and the cause of all that disaster.
– O Jesus, I trust in you, I hope all this is a lie. Forgive me, have mercy on me. You know that my desire is to love You; nothing of sin, nothing unworthy of You.
The devil, laughing, with vile words, pretended to play a guitar. My cousin reminded me that there was a formula which had the authority to make him go away. Taking the cross and sprinkling holy water, she used the words she had heard, and the evil one withdrew. But before retiring, enraged, he spat into her face. I asked her if she felt the spittle, she answered no. We were fighting for two hours. I struggled, keeping my eyes ever on Jesus and without a word to the enemy. I was tired of so awful a scene, and terrified. Jesus came with his divine balm, which, for some time healed my wounds.
– My daughter, my daughter, do not believe in Satan, he is my enemy, the enemy of the souls. There was no disaster, it was only a delay, they are on their way. Trust in your Jesus who gives you everything: He gives you peace, sweetness and love. Trust, trust: I am your Jesus, aflame with love for you. Trust fully in Jesus.
I no longer felt any doubt. Minutes later, all my dear ones came to me.
Poor souls who are drawn by Satan! Alas, if Jesus were to leave me for a moment, then I would be the most unfortunate of beings.