SENTIMENTS OF THE SOUL 1944
31 October 1944
I know nothing, I understand nothing. Most of this day passed without feeling either life or death, time or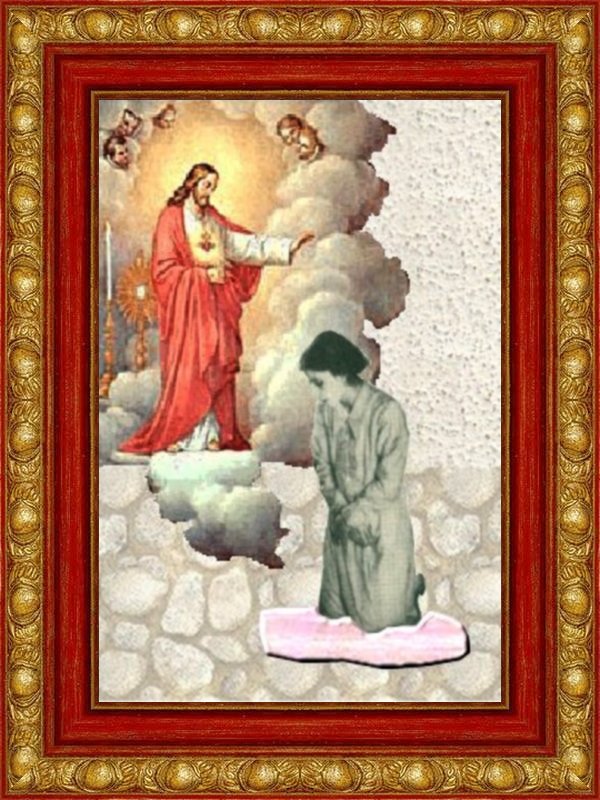 eternity. It seemed to me that I didnít exist, therefore there was nothing for me to hope for. But I didnít stop living my intimate life with God; many times the divine Persons who live in my heart and my soul came to me to be adored. But without my feeling anything, without my having anything; I was living by habit. As night approached the desire to be a missionary was born in me. I wanted to run the length of the world to conquer souls. As I cannot satisfy these cravings I said to Jesus and the Heavenly Mother:
If You gave me all the necessary grace and love, I would go on my knees to knock at the door of every human heart: to those who were in grace, I would give love, and to those who were in sin, I would give them everything, grace and love. I would want to fill them to the brim, to let them overflow. I would want to see flames issuing from them as from a furnace, so that everyone forms one flame, one love. I would want to lock them, Jesus, with a key that is yours alone so that none of them could be lost, so that they would never cease to love you and never lose grace. O Jesus, O Heavenly Mother, I want to love You, I want everybody to love You. I want all your children to own the grace and the purity of my body and of my soul. I am your victim.
It was already night when the devil came with all his fury. He came in the shape of crocodile which scared me much. He came close to me, but never touched me. With his wily arts, it seemed to me that he had done to me everything he wanted. He told me:
ó I come to grant your wishes, not because I wished to come. You disgust me.
And he proved to be very angry.
ó You sin as gravely as you wish because God no longer wants you. Nor do I. You do not serve me. I want pure and honest people.
It seemed that I laughed with joy and repeated over many times: I swap everything for enjoyment, for pleasure. I want to sin, I want to sin with this and with that person, and I named them.
My God, I firmly believe that although it seemed to me that I said this, I didnít say it. The words and sentiments were horrendous. I have no knowledge of many of the things, others I have never said nor thought. What a sad and terrible fight! More than once it seemed to me that I would die. I made my offerings to Jesus, but in such a weak way that they seemed me to be worth nothing.
My Jesus, want is power! You well know that I want just to love You and never, never to offend You. I was sad and timid. What a life mine is, my God! May it be all for your love. The evil withdrew in desperation.

November 1 - All Saints Day

Shortly after, in the morning when preparing to receive my Jesus, I charged them [all the Saints] to love Jesus, His Mother and the Blessed Trinity for me. I didnít know if I had offended my Jesus; I asked Him to be very forgiving of my sins and I asked S"ozinha also to ask forgiveness for me. I wanted to make a very fervent and holy communion.
Jesus came and rekindled in me the desire for more and more love. Ashamed of my misery, I was not able to fix my eyes on Jesus, nor I did not know how to talk to Him. My God, my God, what a shame! I wanted to hide myself under every mountain. And so I did: I rushed to them and they fell all on me. Then I could say:
O my Jesus, my love has no other purpose than to love You; I want to love You, I want to love You, but not in order to look good, nor please creatures. I continued to cry the love of Jesus under the crushing weight of such tremendous mountains. I wanted to live the life of Heaven, to remember what was up there in such a great day, I wanted to celebrate with them and to praise the Lord with them, but I could not. I could only cry: I want to love You, Jesus.
My cry was not heard, it made no echo; it was lost, choked beneath the rocks.
What to do, my God! To accept with joy everything that comes from Your blessed hands. I am yours and all is for You.
Sometimes the devil spreads threats among these desires for love.
Evening came, he came very furious. He used all his tricks: names, ugly names and then he arranged to make me feel in my soul a desire to sin. They are things from him because I do not want to sin; rather millions of hells than the lease fault! I seemed to smile with glee at what he said to me, but no, my Jesus, no! His propositions only brought tears, many tears.
The struggle continued, I could no longer fight. I cried to Heaven whenever I could. I wanted to have the name of Jesus and the Heavenly Mother always on my lips, and to offer myself as a victim, but I had no strength to do it continuously. He was still furious; an awful abyss was opened before me. At the same time I heard the voice of Jesus, but with such sweetness that it did away with the fatigue of my body and everything that pained in my soul.
ó Do you see, my daughter, did you see the abyss? If was not for your reparation, many souls would have fallen into it, many! Courage at the sacrifice I ask from you! Depart, evil one, to hell, let my innocent virgin, my most beloved victim, rest! You donít sin, my dear, you donít sin, my beautiful dove. Rest; recline on me.
Jesus took me in his Most Holy arms, joined my face to His, covered me with caresses, I was quiet and felt no fatigue. The evil one departed in desperation. What would have happened had Jesus had not come to my aid!...

November 2

I struggled, I struggled, I cried, I cried out to Heaven. What a sad day! On the top of the highest mountain I cried for help with all the pain of my soul. It seemed to me that all humanity looked at me from underneath, stared at me without compassion. There was no one to sympathize with my grief. I cried for Jesus and the heavenly Mother: not even from Heaven did any comfort come for me. It seemed to me that my soul was being shredded into pieces. In this way the pain was destroying it and destroying all the being that was not mine. O my God, I cannot live here! O Jesus, O Mother, reignite in me the longing to love You, I call to You: I donít see You, I donít hear You, it seems to me that You do not exist. I do not know love.
O my God, how can I love without knowing love, and love what does not exist? Jesus, Heavenly Mother, I believe that You exist: I trust, I trust! May this suffering serve as reparation for those who sin in Thy divine presence ,and with such malice as if You do not see that either they or their sin exists.
It was already night, from one moment to the next, without thinking about it, I felt myself in the Gethsemane, prostrate on the ground in agony. I felt so great a longing for my crucifixion that I could not resist. Longing, sad longing! I was afraid of the approach of Friday because of the ecstasy. But oh, how I love my crucifixion! I fear the colloquies with Jesus perhaps because the men have caused me so much suffering, not Jesus, but I feel a longing for the death that He puts me through by His holy Passion. What used to be a horror when I had it, I long for now that I havenít got it.
The devil threatened me, but this time he did not come with his violent attacks. Blessed be the Lord!

November 4 - First Saturday

I spent hours of tremendous fighting with the demon during the night. He told me the very worst he could. He said that I was not loved by Jesus or by Mary. That I sinned as much as I wanted, when I wanted; that it was me that wanted to sin and not him that made me sin. I was very sad, almost not believing in the words of Jesus.
My God, if it is so, how can You talk to me and tell me such beautiful things?
A new effort on my part: I trust, I trust, my Jesus, blindly and without limits! Very diffidently I began early preparations for my communion. Jesus came, I received Him. He did not rush to talk to me. It took a few moments, then He whispered to me:
ó My daughter, nice flower with tender petals, pure and fragrant, bed in my garden where are rooted the most aromatic flowers of the most heroic virtues. They are my roses, are divine flowers. Come, my angel, come to rest in your Jesus, in thy dear Heavenly Mother. Trust, you not offend me, trust: the devil makes your struggle, you donít want it, it is me that requires such reparation from you. Only from a chaste and pure virgin am I able to ask it.
At my right I heard a very tender, very sweet voice saying:
ó Give me, my Son, your daughter, and mine, so that she may rest in my arms.
ó Accept, Mother, she is mine and yours, caress her, fill her with your love.
Jesus put me in the Heavenly Mother's arms, she hugged me, caressed me so gently and sweetly! My face joined Hers, I was covered with tenderness and caresses ... I can tell it: I had never felt like this before: I was already enjoying Heaven. It seemed to me that I was shrouded in a cloud. Heavenly Mother, Heavenly Mother, what happiness is mine! What it will be to enjoy You forever in Heaven!
ó O my daughter, O beloved one of my Jesus, trust, trust! Your Heaven, your eternal joy is coming soon, very soon. I confirm, my daughter, the words of your and my Jesus. You do not offend Him. I grieve to see you in such a tremendous struggle knowing how much you love purity, it is why I love you and why Jesus loves you. He needs your reparation. If you knew how He is offended by sins against holy purity!
He stroked me again and She gave me to Jesus.
ó Accept, my Son, your daughter. Give her now your love, caress her Yourself.
Jesus ignited me with His love and caressed me, too.
ó My daughter have courage, fill yourself with Me for the struggle. My Divine Heart is so wounded! I can no longer suffer the crimes of the impurity. Look this one and that one. He named them. Young and old, women and men, among them some priests.
ó When they come near you, tell them I'm hurt, hurt, much hurt. Call them, lure them to Me.
Say, my daughter, to your dear father, to the imprisoned one, captive for my love and the love of souls, his sufferings are thorns caused by their sins. Tell him that through you I give him all my love, grace and riches, everything is his. Tell him that I am the same God, that I do not neglect my divine promises, that he will be released, released from all, set free.
Tell your doctor to continue to care for you, you and my divine cause. Give him my thanks; tell him that victory is his and of all who work with him. For all those, whom I love, my peace and thanks. Tell him that as proof of his tireless work I promise him my love and salvation to all who are his. Highest award still, I promise him in the time of death the forgiveness of his sins: he will be clean, will not suffer Purgatory, but will pass into the delights of Heaven. Youíll have this promise for more people.
The Heavenly Mother caressed me again with Jesus. She said to me:
ó O bright and shining star, with your brightness you give light to the world and
guide souls to Me and Jesus. Give, in my name, my love to those you love because I also love them with Jesus.
Heavenly Mother, Heavenly Mother! Jesus, my love, thank You very much! Not even on my knees for eternity will I be able to thank You for so many benefits.
It cost me much to let go of Jesus and my Heavenly Mother! It seemed to me there was nothing to cut the chains of love that held me to Them. The longing for the immolation, for the sacrifice, came almost immediately. I am a victim, I am of Jesus, I am of souls. I die for not loving, I die, after all this, for not suffering. O cross, O cross, O blessed cross!