January, 16
I remember the treasure that Jesus and our Heavenly Mother stored in my heart, but I no longer crave to guard it and do everything for it. Now it does not preoccupy me. I'm tired as if I had done everything for it. What makes me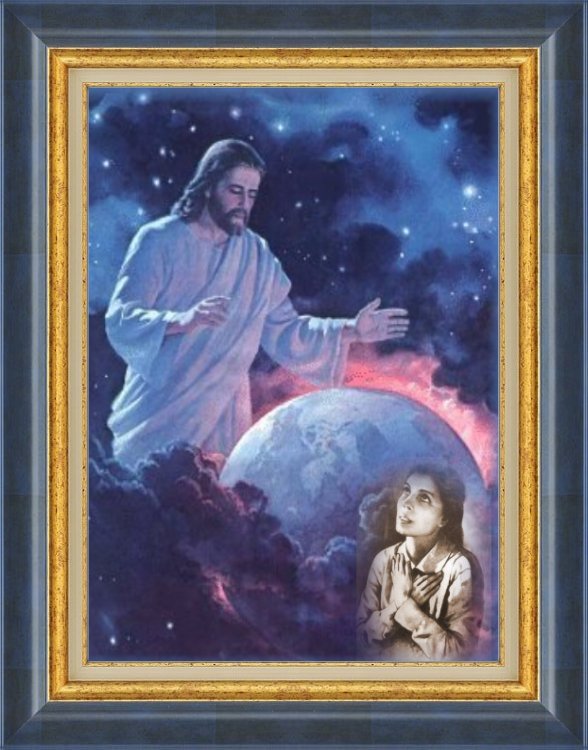 suffer now, and suffer indeed, is the feeling that everything I could do to save it I did, and now I can't do anything else.
O my Jesus, what shall I do, what shall I suffer? I want to save humanity at all costs, and my soul feels that it has nothing more to give, nothing more to do, that there is no suffering which it has not suffered for it.
Oh my God, what a painful martyrdom! You have the remedy, my Jesus, You have the remedy for this evil. You have my body, you have my blood, it is Yours, use it, so that the world might be saved. Do not let it to get out of my heart. Do not let me have one more moment of life in which I am not able to love You and to love souls.
The world, Jesus, souls have been bought by your blood. I do not want your blood to be trampled underfoot; I do not want it to stand as a condemnation for souls. I'm ready, my Jesus, to give my life every moment, while the world is the world, if possible, to save them.
Jesus, I am a victim of the world, but first of all of your divine love.
On the 13th, among esteemed visitors, came one I had expected and need very much (Fr Umberto, as stated below). I was waiting for him but when he arrived I received him coldly; I was indifferent to him. I looked at him and sometimes it seemed to me that I didn't see him, that he wasn't a reality. He was a prisoner, released from prison, visiting a corpse.
O pain, O sorrow, O appalling darkness! It's too late to give me joy, it's too late for my poor soul to receive comfort. My eyes seemed not to see the second robbery that was inflicted on me. What will happen when the first returns?
— Jesus, I am your victim, your love; the salvation of souls at all costs, at all costs. Now I suffer for my coldness, my indifference for this visitor to whom I owe so much. It seems to me that I appeared to dislike him, that I hurt him. O Jesus, always all for your love.
During the night, which I spent almost all the time alert and united to Jesus in the midst of a sea of ​​pain of body and soul, I was viciously assaulted by the devil. I fought against him for nearly two hours. Sometimes he told me that I sinned with someone, then he told me that I sinned with others. He called for his comrades to come to sin with me. When I would not say or do what he wanted, he was much more enraged, and tried to leap upon me and crush me. When I could, I cried to Heaven; when I could not, I fought alone. In extreme moments, I cried:
Heavenly Mother, Heavenly Mother, look at the danger I'm in, save me, do not let me sin or stain my body or my soul!
One only dies when Jesus wants. If that was not so, I would have died during this battle. I was lying, bathed in sweat and out over a ghastly abyss without so much as a thin wire to support me. I was looking into it with dread when I heard Jesus telling me:
— This gulf, my daughter, is the abyss of the vicious ones, given to pleasure and to the flesh. Woe to them without your reparation! My angel, angel dear, make haste to accomplish your mission! At the same moment, a gentle breeze brought me to my pillow. Jesus continued:
— My daughter, let us console each other. I will share my sorrows with you, and you share yours with me.
Courage, you do not offend Me. After your battles your soul is purer and brighter to my eyes divine. What a great consolation you give to my Divine Heart which has been so wounded!
— O my Jesus, it costs me so much, this pain! I'm so afraid of sinning! Watch over me, I want only what pleases You. See all the suffering that goes on in my soul. What sad agony!
— Courage, my beloved. I get great satisfaction from your agony. Your death gives life to souls. I did not let you feel the consolation of my dear Father Umberto's visit, neither was he comforted to see you; souls derived much advantage from this. It was that men might see that when a soul embraces the cross and is firm in the love of Jesus, it is not led by natural enthusiasm.
Give my Father Umberto my thanks for coming to give life to the soul of my spouse, my beloved victim. Give him my thanks, blessings and love - to him and the entire congregation. Only one wing has been affected, only one flight has been curtailed. This is why I send you blessings and thanks to the entire congregation. It is the reward that I give along with my Blessed Mother whom he loves, and she loves him so much. With her eyes, in union with him, so much good has done to souls! I want him to support you, since your dear father who longs to fly to you cannot protect you; they have cut his wings and, not satisfied with that, have tied them to his sides. How much this has hurt my Divine Heart! But, oh how much consolation for my Divine Heart and profit to the souls I have taken from his suffering!
Take courage, therefore, to fight whatever comes; courage and fortitude, like the soldiers who in the middle of the thickest battle do not even tremble.
I give the certainty of victory to all who take care of my divine cause.
My daughter, I will not be long in coming with my Blessed Mother to give you our divine life. You need it; it is for it that you live. Your life is being stolen from you by sinners and the persecutors of my divine cause.
— I feel faint, Jesus, I am leaning towards death, not to this death I feel, but for the death that is life that gives me eternity, that gives me Heaven, where I cannot be afraid to offend You. Come pain, come love, I bless all that comes from Your divine hands. I count on You alone, for myself I only have doubts and fears.
Jesus withdrew or hid; He was silent in my soul, my soul so wounded, so fearful of having sinned. The time of the visit of the Blessed Sacrament was approaching and the struggle against Satan had not faded from my memory.
How sad to receive Jesus after having gone through such ugly things!
I spent the day dead to everything, only alive to pain. Oh my Jesus, how sad is my life, I would be happy, very happy, if, in the midst of all this, I loved only You and souls were saved!