SENTIMENTS OF THE SOUL 1944
2nd October
For two days I could breathe better: Jesus deigned to alleviate my sufferings for a while. Today He overwhelmed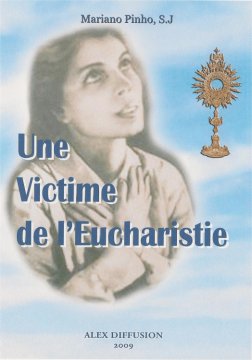 me once more with the most loving weight of His cross. I feel myself at the door of eternity. Two violent battles with the devil took me there.
Oh, my God, what tremendous suffering! I struggled, fought, begged the help of Jesus, of our Heavenly Mother and of St. Joseph.
Jesus, for the sake of Your Cross, for the sake of Your love, save me, I do not want to offend You!
The devil provoked me continually, he threatened me with foul and horrifying words. I was a monster encased in another even bigger monster. With my eyes on the crucifix, I repeated dozens and dozens of times: Jesus, I am your victim.
Enraged, the devil spat on the floor and said to me:
– Worse is still to come. You say you don't want to sin, but you look like sin.
I cried with great pain, while I said to Jesus: Accept my tears, I want each one of them to be a vast ocean of love in which I can place all Your tabernacles so that they can never more be more attacked and desecrated by Your children.
The first demonic battle I offered to Jesus for a priest in great danger, the second I offered for all priests.
The fury of the devil was terrifying. It seemed to me that I was enshrouded in a fog of darkness that almost prevented me from seeing. O my Jesus, and the doubts about having sinned?! I could not remember that I was in the presence of God, that I had Him within me, that my inner life was with Him. What a mess! He had seen everything, He had witnessed the most ugly scenes!
After the fight, I could not see or hear anything, I was dead, at the door of eternity. It was already night. Jesus came.
– My daughter, there is a great distance between you and the devil, and I am between you. His threats are cunning but his power is not anything like he paints and puts you through. He is halted by Me. I don't let him get any closer to you.
Courage, my beloved, my beautiful dove. You are mine, all mine. Your body is pure, innocent, and immaculate for Me. I was revived then and was able to rest quietly for a while.
3rd October
Though I was sad during the night, this morning I prepared myself for Jesus' visit. But I didn't know how to welcome Him. I remembered what had happened and, though a burning desire to receive Jesus vibrated in my soul, at the same time an immense pain and confusion left me prostrate.
O my Jesus, not to have a priest to whom I can confide what has happened!
My Jesus came: I tried to love Him and tell Him everything. I only wanted to comfort Him and to live for Him. Alas! I was cold, even icy. My little being, which is a bit of destroyed dust, already disappearing, was walking, covered by the ashes of others, so many ashes, a multitude of ashes! And this little one gives signs of still having life, she is entering, she is burying herself in that huge cemetery. Deep silence: everything is death, everything is death.
While I was without light and without life, a letter came to my hands from one who could tell me things which alleviated my suffering. I took courage, I felt even joy for few minutes, a joy that softened my pain and gave me strength for the big battles that I was to face.
The devil came with his wily arts. He spoke to me from afar, but spoke outrageously. My God, save me, I said! If God doesn't save me, who will? I renewed my offer to be a victim, and the devil answered me:
– Each time is worse for you, the more you offend God, more I will fight against you. I shouted to Heaven, crying, afraid of offending Jesus. I heard the evil spiting and, full of anger, saying horrible things against me. – You sin, you sin, etc. – he said. Jesus came at the end of the last battle.
– My daughter, I am in you, always in you; with you, always with you. Don't be afraid, I don't agree that you offend Me, I cannot allow this, my spouse and my love. You are a victim, little daughter, let yourself to be immolated for love.
– Yes, my Jesus, but look, my love, conquer in me. See how the evil one leaves me without the strength to fight. Do not let me lose confidence in You, my Jesus.
– Confide in me, tell Me that you're mine, tell Me You love Me and that is enough for Me.
The devil told me that he wasn't going to leave me alone and that I would be attacked more strongly, nonetheless he left immediately. Jesus came and he fled.
4th October
During the night I was violently attacked by the devil. With my eyes raised to Heaven, I called Jesus, I called our Heavenly Mother, I begged for help. I heard from the evil one things I had never said or thought in my life. The fight was tremendous. He told me many times that I had offended God mortally. I threw myself into Jesus' arms and into those of our Heavenly Mother; it seemed me that I was not accepted by Them. Yet I didn't cease, when it was possible, to invoke their holy Names. All I heard was Satan's malicious voice. Then I said to Jesus:
– I place myself on the altar of sacrifice, I allow myself be sacrificed for love and for souls, whatever form the immolation may take. I supposed that I was martyr. Willingly I accepted the martyrdom, whatever it cost, whatever the suffering was that Jesus willed to give me.
Oh my God, I do not want to sin, to offend Thee. No, my Jesus!
The fight continued and I had no strength left. It seemed me that the devil was doing whatever he wanted to with me, getting everything he desired and that I agreed. Then I heard a voice:
– Enough, enough, Satan! Go back to hell with your wily and infernal arts. Come, my daughter into my arms, rest in my heart.
I felt myself in Jesus' arms and felt that He let me enter into his divine Heart while in the distance I heard the devil howl and scream infrustration. And then I fell asleep in a great peace, enclosed in the Sacred Heart. The idea of having sinned tormented me and I was afraid of not being able to receive Jesus for whom I ever sighed; I looked at a picture of his divine Heart that I have next to my bed and it seemed He no longer looked at me.
My God, what a life of pain and bitterness! Alas! I do not know how I can live without Life! O my Jesus, do not let me stop receiving You; do not consent to my losing You through sin.
Perhaps half an hour after the coming of Jesus the battles that were to be repeated a few times during the day began. I felt that I was being tempted by those around me. I was afraid that the devil might be the cause of losing my union with Jesus. I could not recall that I am always in his divine presence. I do not want to separate myself from him, but I feel so threatened. I feel shattered and humiliated in the presence of my Jesus, from whom I cannot separate myself. What will be my future, my Jesus!
6 October
I cannot look at Jesus, I am ashamed that he knows my life. What will become of me, my God? I feel obliged to stop receiving You. The devil continues with his violent attacks. He throws the worst he can find at my face. Tell me that it's not him but myself who says and does all these things.
– See how you sin and you have the audacity to receive the Holy Communion?
And more, and much more. My God, and I live in your presence! I do not want to separate myself from you, nor want You to turn You eyes away from me. The horror that my iniquities cause me almost forces me to say: mountains fall upon me, hide me, hide me!
Yesterday, my Jesus, at the end of a tremendous fight, I heard your sweet voice encouraging me by saying:
– You don't sin, you don't sin, my daughter, you give me a great proof of your love. Enliven yourself with the words of those who have the right to encourage you. Trust, trust!
Then I felt myself renewed, my Jesus, but for such a short time! Soon the devil came to tell me things that were most ugly and to persuade me to doubt You.
Today, preparing myself to receive You, I was terrified. Only You, my Jesus, saw how painful and sad my preparation was. Your coming into my heart made everything disappear and revived in me the greatest cravings and desires to love You. I felt peace, sweet peace for some time. Blessed are You, Jesus!
Soon came the pain, the total death I feel within me.
An invisible force is dragging me so that I don't notice any signs of life amid the ashes of this huge cemetery. I am falling, deep in the ground, right to the bottom, led I don't know by whom. I am dead, I have no life. But, ah! I know well: it is your divine love that leads me, You are You, they are souls, nothing more. I trust, Jesus, I trust!