BLESSED ALEXANDRINAíS WRITINGS
ó 6 ó


Sooner or later it will be necessary to adopt a less random criterion for the choice of texts for the Monthly Page than has been the case so far. But for the moment it will be as usual.
And, though not customary, I dedicate the text this month to a Brazilian Catholic Association, the Comunidade Servir. This community, which is making great efforts to promulgate Blessed Alexandrina, values both Reparation and the Eucharist. During this month, February, the Association will have a large meeting, and we wish it the greatest success. Here we stress the aspect of reparation:


18-5-1945, Friday

I will praise the Lord.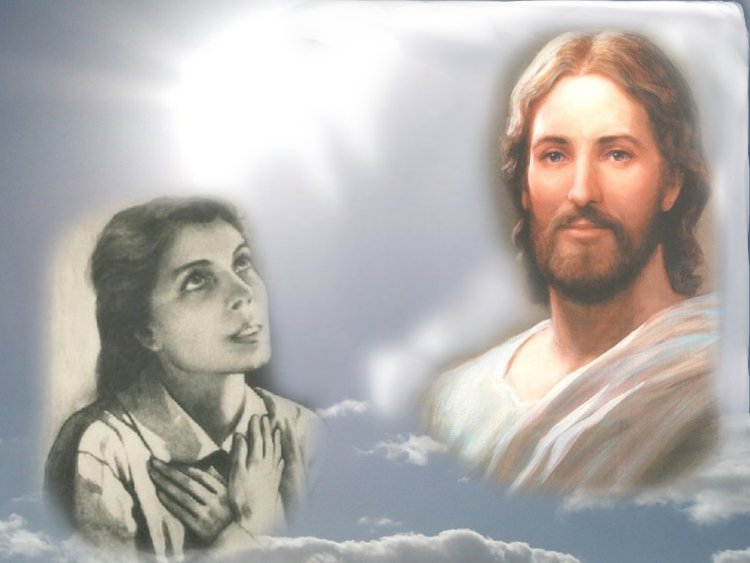 I received from Jesus, in this blessed month of our dear heavenly Mother, another gift which came to open the grave for me, and present me with more thorns to pierce the wound of my heart, which is always bleeding, and not allowing it to heal. From time to time it grows in intensity.
I will always praise Jesus and our heavenly Mother, but I confess that if it were not for the graces of Heaven, I would have perished in despair.
What a great love is that of Jesus! How great is my debt toYou, my love! With You I have always won and always will win! I have no word of complaint to utter; indeed I deserve still more for my misery.
I am like a little dove, with its beak open, flapping its wings about and getting lost because it has nowhere to land.
I thirst for light, I thirst for comfort.
Since on earth all paths are blocked to me, let me, Jesus, let me, Heavenly Mother, enter into Your most loving Hearts; even if I do not feel anything, let me at least be certain that I live in them.
There I am free from hatred and persecution; there I am sure that I love You and that I do not offend You.
If only my body could plunge into darkness, like my soul, so that it would never again be seen or remembered, thus I would die, and not be spoken of again, just as my Bishop wishes. It is with love that I accept and obey his orders. I do not harbour the least shadow of hatred against him or his companions. Rather, I said:
My Jesus, have mercy on them, they donít understand, they donít know the sufferings of the soul.
My Jesus, if only I could prostrate myself before You and, with hands raised, I knew how to thank You for the gifts that You give me!
When my heart was bleeding with pain, I could not pray the 'Magnificat' with my lips, but prayed it in my mind.
Give me strength, Jesus, to suffer, do not condemn me, the judgement of the men is worth nothing except to further my martyrdom.
Those men made me suffer today, so that I became more like Jesus and accompanied Him on the way to Calvary.
And there I went, bound with ropes, but also with love, tied to the cross. I am a victim of the opinions of men, I am the victim of the tears of my relatives. If only I could suffer alone!
I will praise the Lord, I do not want to lose a moment.
My glances are not my own. They fix, full of tenderness, on one or another heart that has allowed itself to be swayed by glances so full of sweetness and love. The glances do not look equally at everybody; the hearts, their correspondence, this is what makes them deserve everything that these glances contain.
I had so much to say on this point! There are so many who I wished to attract and embrace!
What is this, my Jesus? It is always my cross. In this joint suffering, my Calvary with that of Jesus, my heart, oppressed with the overwhelming weight of the stifling pain, didnít resist.
Will I win, Jesus? Will I be able to cope? Only with You. Save me. I am afraid.
To feel so deeply my abandonment and that of Jesus! My body was bleeding, shedding the last drops of blood.
Then He came.
- I love you so much, my daughter! I espoused you to Myself and your Calvary is mine. Have courage. The thorns that hurt you were mine. The whips that lash you were mine, mine too was the cross.
Love was the cause of the thorns, the lashings, the cross of Calvary, of death. Love nailed Me to the cross, it fastenes Me still in the sacrifice of the Mass until the end of time. And you, my beautiful dove, on you was my image also fastened; I locked you up in the love of my Divine Heart, locked you up with the love of souls. I allowed you to be hurt, my beloved; each thorn that wounds you removes one from my sacred head and from my Divine Heart. Do you see how many I have!
Jesus showed me his sacred head and his Divine Heart. What a great and very sharp hedge wounded Him! I was so sorry for Jesus and I said to Him:
I accept everything that is pain, I want to take from You all these thorns and not leave any trace of the injuries.
I began to take spines from Jesus and dispose of them. In a few moments all had disappeared and neither the head nor the sacred Divine Heart were wounded: there was no sign of blood. Everything had disappeared.
- Do you see, my dear spouse, how your new suffering removed all the wounds that I had? Courage! Take heart! I do not fail. To doubt Me is to offend Me.
Even if I said to you that what I promise will come soon, I donít deceive you, I donít deceive you even if it takes years, because the years, compared to eternity, represent a moment. But I donít delay, trust Me.
I leave you, my daughter, a little more freed from the devil; in order for you to survive, I need to work miracles. If you knew, when you fight with the devil, the souls that you wrench from the abysses and lead to Me! They are firm, they do not offend Me seriously again; they are saved.
To survive your painful Calvary, I will come to you frequently, but mostly in silence. These silences are ecstasies of love, but you will always receive from them all the abundance of my graces, tenderness and love.
You are rich with My riches, you are full of My virtue. That is why your eyes attract, have tenderness, have sweetness, are arresting, have love.
That is why your smile has warmth, has everything that is of Heaven. You donít live, I live. These qualities are means of salvation and calls for souls.
Isnít it true, my daughter, that I had in my Calvary two lives, human and divine? Even in this you are like me. In your Calvary you also have a divine life; it is Christ who is in you. Donít be afraid.
The divine Gardner comes to his garden to see the wonders that He planted and the result of so much work. The King comes to the palace of his spouse, the divine Redeemer to his redemptrix, the new saviour of humanity.
My wonders are not hidden in you, I will not permit them to be hidden. They will shine! They are my glory; they are the salvation of souls. Everything will be known, my doctor of the divine sciences, everything will be known in the book of your life.
You are the heroine of love, the heroine of pain, the heroine of reparation, the heroine of battles, the queen of heroism.
Receive comfort, daughter, receive My divine love. When I come to you in my colloquies, I join Myself to you with this love. I come and give life and comfort to your heart and to help you in your darkness.
You are mine always and I always live in you!