I know only some numbers of the Blessed Alexandrina Society Newsletter. From them, I copy out some extracts. They show how deeply the Society has understood Alexandrina's message and how far the same Society has spread Alexandrina's name. Let us see:
The founding of the Alexandrina Society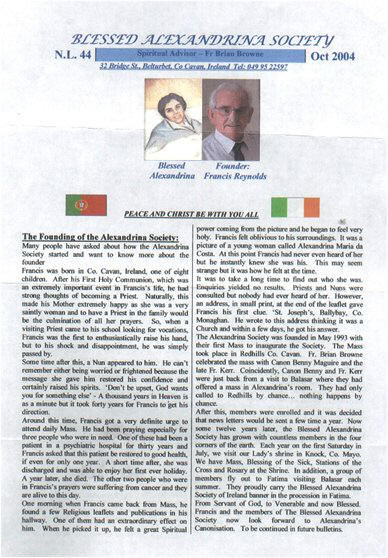 A Chinese Proverb says "A journey of a thousand leagues begins with a single step" and that was exactly what happened after we took our first tentative steps in founding the Alexandrina Society and in having our inauguration Mass in Redhills, Co. Cavan on 23 05 '93. Francis Reynolds (Belturbet), whose mission it is to make Alexandrina known and loved, took the decision to found an Alexandrina Society in Ireland. So the Society was born, and spread, with inquiries over the intervening years from as far afield as Australia, East Timor. Canada, the USA, Singapore and Kenya. Nearer home we have members in almost every county in Ireland and the U.K. His dream is becoming a reality. (N. L. 40)
Beatification of Alexandrina Maria da Costa
Ten years ago our founder, Francis Reynolds, was given a message by the Holy Spirit to make Alexandrina's life more widely known. The command was "Talk to People, Tell Them". This he has tried to do with the help of so many wonderful and faithful members. What a great joy it was to be told Alexandrina was to be beatified and this to happen in our lifetime! Many members went to Rome for this wonderful occasion and others went to Alexandrina's hometown of Balasar, Portugal.
Account from Rome :
Pope Beatifies Alexandrina Maria da Costa
His Holiness John Paul II beatified Alexandrina Maria da Costa and five other people at 9:30am on Sunday 25th April 2004. His Holiness said, "They discovered that the love of Christ is the secret of holiness".
Alexandrina was beatified with a Polish priest Augustus Czartoryski, a Columbian nun Laura Montoya, a Mexican nun Maria Guadalupe Gracia Zavala, an Italian nun Nemesia Valle and a Spanish nun Eusebia Palomino. Alexandrina was the only layperson.
The ceremony was held in front of 20,000 pilgrims, gathered in St Peter's Square. There was tremendous applause when Alexandrina's name was announced, especially from the Portuguese, the Scottish and the Irish contingent, along with many more pilgrims from other parts of the world.
Great jubilation and celebration was evident among the pilgrims. It was an emotional moment for many. There were tears of joy and disbelief by faithful followers of Alexandrina. It was a proud moment for all who have helped spread her name and for those who have prayed for her beatification. Her banners were held high, triumphantly in glory and honour, throughout the crowd.
Amid all the applause the Pope incited, "Let us follow the example of these blessed! Like them, let us offer a consistent testimony of faith and love in the living and working presence of the Risen One".
The Pontiff also added about Alexandrina, that she a laywoman of the Union of Salesian Co-operators relived mystically the Passion of Christ and offered herself as a victim for sinners, receiving strength from the Eucharist that became the sole nourishment of the last 13 years of her life.
John Paul submitted the trilogy that represented her life, "Suffer, Love, Repair", to the faithful, so that they can "find the stimulus and motivation to enable everything that is painful and sad in life with the proof of greater love", to sacrifice ones life for the beloved.
Our Group from Ireland met afterwards with the group from Fatima and Balasar. They exchanged thoughts and congratulations. They were invited to Alexandrina's first mass in the Vatican the next morning.
The Archbishop from Braga, the diocese of Balasar, and thirteen bishops celebrated the Mass. It was a wonderful occasion. This was the highlight of the week, for our pilgrimage: everyone was elated. The next five days were spent visiting the sites of Rome and Assisi.
Thankfully everything went well and they all returned home with many happy memories.
Account from Balasar, Portugal
On the glorious morning 25th April '04, every road to Balasar was thronged with pilgrims. They came in their thousands, walking, black-clothed or in a kaleidoscope of bright colours — depending on age. Many would have walked miles from places as far away as Guimarães, Amarante, Vidago and Mirandela. Coaches and cars were bumper to bumper with parking places at a premium.
It was the day of Alexandrina's Beatification. The sun was shining, God was in Heaven, all was right with the world, and the Portuguese were preparing to celebrate. Alexandrina Maria da Costa "the sick woman of Calvary" as she was known to everybody, was about to receive the penultimate honour that the Church bestows.
Since she only died in 1955, there were doubtless people present who had met and remembered her — as up to 6,000 people would have walked through her room in a day.
Early that morning, we (four members belonging to the Irish Branch of Alexandrina Society) were picked up at our hotel by Maria Ramoa, our lovely warm and friendly guide for the day, and our driver, Senhor Maia. We travelled in great style in our mini coach with the Póvoa de Varzim crest on the side; waved on by the men with the armbands ('lockards"). Unbelievably, and despite the crown, were taken to the church door and escorted into the Sacristy where we were advised, "walk out after the Celebrants". All this without any cajoling or asking! Alexandrina had decided to look after her Irish friends.
We got seats close to the Choir — the Portuguese people are singers and that morning they were preparing to sing their hearts out. Sometime — hopefully — we will get the melody of the Alexandrina hymn, which must have been composed specially for the occasion. As we face the altar for Mass, Alexandrina's tomb in on the left hand side of high altar. One of the requests she made was that after here death "if it is not prohibited by Holy Church, I would like to have on my coffin many flowers, not because I merit them, but because I love them". On Sat. 24th we left a bouquet of flowers (carnations) at her tomb with green, white and orange ribbons, and a card "from the Alexandrina Society, Ireland".
On either side of the church, hung two large TV screens, and with perfect timing, just as the Mass ended, we were linked up with the ceremonies in St. Peter's where the beatification was to take place. First the huge crowd, and then incredibly in their midst, the camera picked up our Alexandrina banner being held by Susan and Ursula! Then the picture of Alexandrina was beamed into the church in Balasar. That same church where until age 19 she was still able to drag herself to, and where sitting hunched over she would remain in prayer to the great amazement of parishioners. Now, thanks to technology, her picture was being shown there, this time not as a poor cripple but as one about to receive a high honour of the Church. As the image of Alexandrina was shown, Pope John Paul could be heard pronouncing the solemn words of her beatification. It was truly one moment in time All rose and clapped, Alexandrina, who for so long had remained hidden from the world and aloof from its vanities and praises was, as requested by Jesus, being made known to many. And we, in our own small way, have helped carry out this request. (N.L. 43)
A homily (extract)
The following is a brief extract from Fr. Gerard Ellis' homily at Knock:
"Alexandrina, a frail young girl already suffering from the effects of a 16ft. fall, was asked to accept the same suffering as Christ — not just once, but over one hundred times. Against the question as to how she endured such an ordeal, the answer is that her doing so cannot be explained save that it was by the power of God Himself. He ordained to nourish her solely with the most Holy Eucharist for many years, proving that with God all things are possible. This does not reduce our admiration of her heroic endurance, her wonderful love of the Lord and her remarkable concern for the salvation of souls. Her wonderful life calls on us not only to admire her complete oblation and unflinching courage but also to imitate her in making everything we do a sacrifice for the same cause. Let us ask her intercession as we plead for her to be elevated to the honour of Sainthood." (N.L. 38)
Correspondence
John wrote the following letter to the Society from Pompano Beach, Florida in 1995.
"Both Alexandrina and Our dear Lord, who wishes her to be known, worked a wonder this morning. Your letter sent to me in New Jersey arrived yesterday but I was busy finalising the next issue of the magazine (Voice) and I did not happen to open your letter until early this morning. By that time the magazine was finished. In it was an article about Alexandrina. The completed copy was already in the Fedex mailer to be sent by overnight mail to the office in California. But I had not yet sealed it.
After reading your letter I opened it up, got my portable computer out again and changed the article to include your address. The chances of this happening by accident are astronomical. This article on Alexandrina was supposed to have been printed last year, but for some reason was put off. I have never in my life, to the best of my memory, opened mail at 5.00am. But the story is not over. I had put only your address in Ireland on the article. (This was all between 5.00am when I got up and 7.00am when I finished altering the article and went to Mass). After Communion it occurred to me that not many would want to write to Ireland. So I added the address of LAF (Lay Apostolate Foundation) who promote the causes of Lay people of heroic virtue and make them known. It occurred to me that through LAF we will get the Alexandrina Society going here in America. It is just what is needed: a sharing among devotees and a bulletin publishing favours." (N.L. 36)
A letter from Muriel Fernando, Negombo, Sri Lanka, says, "I am a retired teacher, educated by the Irish Good Shepherd Nuns. A twenty-year civil war between the Government and the Tamil terrorists has left our country crippled and devastated. The Tamils are planting bombs in crowded trains and buses, killing innocent civilians. I have organised a number of prayer groups in neighbouring parishes. We are now storming heaven with our prayers. I need literature and prayer cards (Alexandrina) to distribute." (N.L. 35)
Julie and her husband had been trying for over two years to sell their business but had no luck. Plenty of people wanted it - but for next to nothing. It includes a lovely 4-bedroom house. The shop is a village General Store that sells everything, newspapers and Lottery tickets included. It has a very good turnover. Julie started praying in earnest to Alexandrina and in two weeks they had it sold. She says, it was Alexandrina who sold it! (N.L. 36)
Florence Mary Adhiambo wrote from Kericho, Kenya to say 'How happy I am to have received 'The Agony and the Glory'. I wanted to reply immediately but every time I sat down to do so, I felt drawn in reading the book. Her life has deeply touched me. 1 am giving the book to my friends to read."
Hopefully Alexandrina's heroic virtues will become known and she will be loved in Kenya. (N.L. 34)
An Indian priest in Maynooth (no name given) asks prayers for vocations. (N.L. 35)
Kathleen (Ohio, U.S.A.) asks Alexandrina to intercede for special needs for her family. (N.L. 48)
José Ferreira