Kevin Rowles' booklet Blessed Alexandrina, A Living Miracle of the Eucharist has been re-launched. After its initial publication in England, it was published in Australia, and a new version has now been published in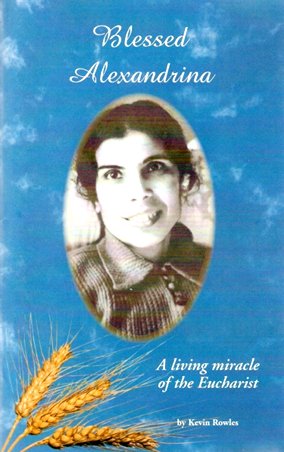 the United States by New Hope Publications. The English and Australian versions were pocket size booklets giving the life of Blessed Alexandrina; but the American edition has been re-designed and illustrated with about 40 well chosen pictures. In addition, the format of the booklet is no longer pocket size, but much larger.
It was pleasing to see a mention of Jesus' generous promise to those who visit Blessed Alexandina's tomb:
"I promise you – trust me - that after your death all the souls who visit your tomb will be saved, so long as they do not continue in sin and thus abuse the great favour I give them because of you."
The booklet also contains that poetic prayer which begins I see my Homeland in the distance. This biography is very pleasant to read, as it doesn't just reveal the occurrences in Alexandrina's life, but seeks to capture the inner life of this great mystic soul and highlights the lessons that make her particularly relevant to today. In the book, it is recalled that Alexandrina has been proposed by the Church as "a model of purity and perseverance in the Faith for today's youth." It is important to highlight this aspect, as today many young people are far removed from the Church. Alexandrina, as a Salesian cooperator, so often prayed for them. The author dedicates the work to the founder of the Alexandrina Society, Francis Reynolds, to his wife, Sheila Reynolds, to the dynamic Josie McEvoy and finally to all members of the Association. It is therefore a publication that significantly boosts the dissemination of Alexandrina's life in the English-speaking world, an advantageous step to fulfill Jesus' desire that her life story reach the ends of the earth. The bibliography lists English and French sources, and also some internet sources, including the Official Website. An inevitable book in this bibliography is that by Francis Johnston, Alexandrina, the Agony and the Glory.
By José Ferreira